Visit Natural Detox Resort, Koh Samui
---
If you're no stranger to working overtime, stress-snacking, and finding it hard to sleep at night, perhaps escaping to an island resort would be a good idea.
Visit Natural Detox Resort in Koh Samui puts together healthy outdoor activities, spa treatments, plant-based dining, and safe accommodation all in one place so you can feel your best and focus on your mental reset for as long as you need.
---
Koh Samui resort with fitness activities and healthy meals
---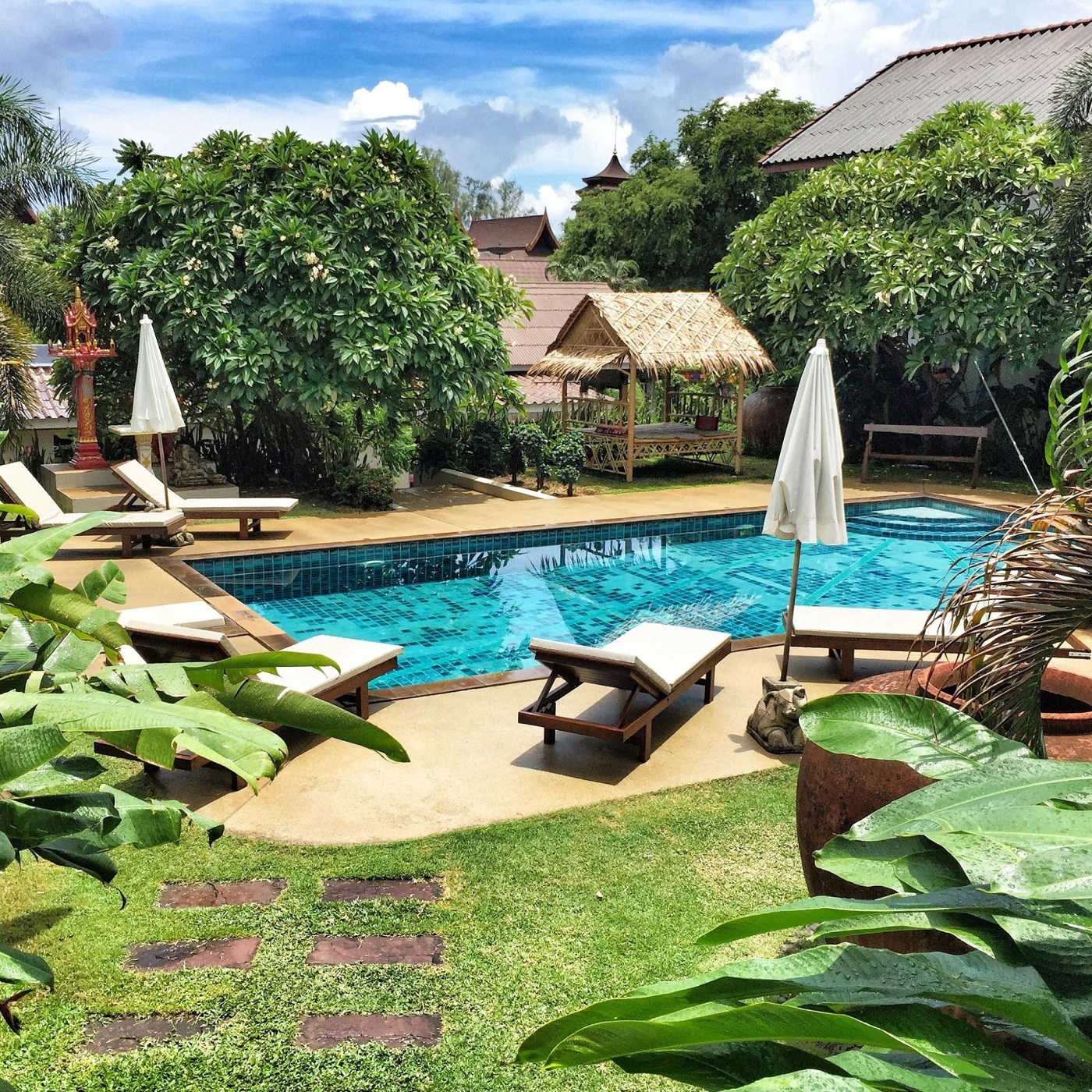 Image credit: @visitnaturaldetoxresort
Visit Natural Detox Resort is a cosy resort located in Koh Samui. Situated close to Lamai Beach and tranquil nature spots, it's an ideal base for daily yoga, hikes with waterfall views, and jungle cycling to regain your fitness.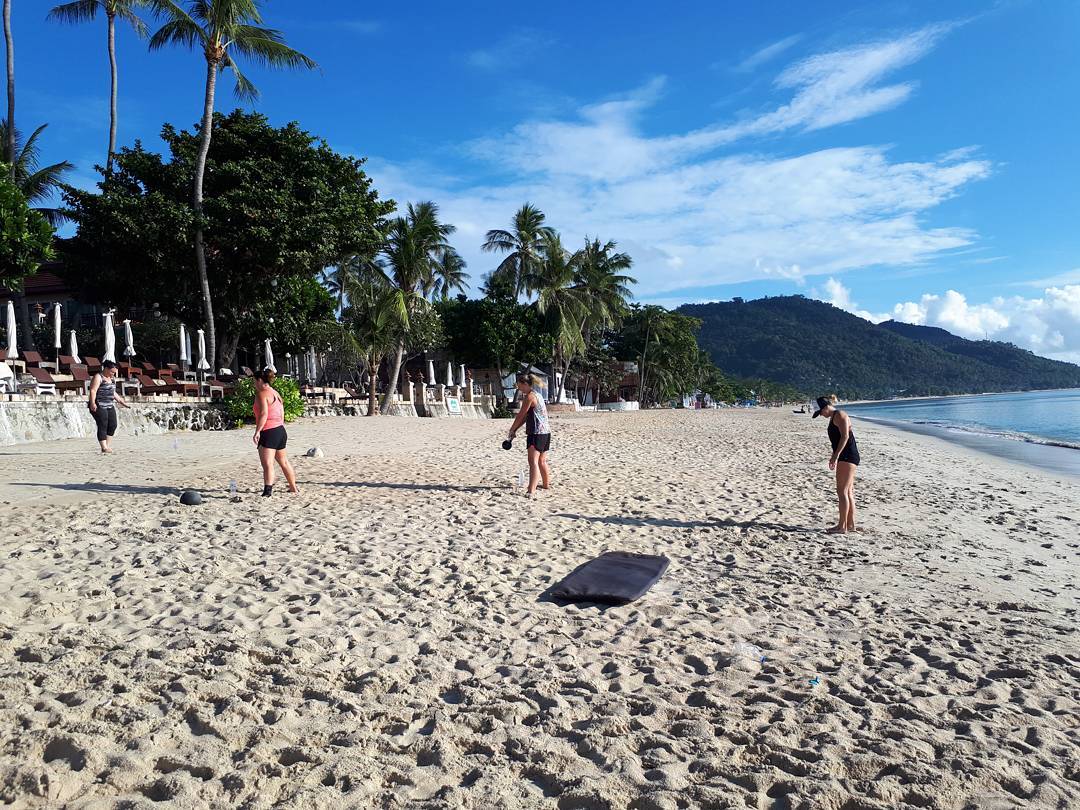 A circuit workout routine on the beach.
Image credit: @visitnaturaldetoxresort
As these outdoor activities are complemented with fitness classes at the resort and healthy meal plans, you'll experience a holistic living routine to inspire you to improve your lifestyle even beyond your stay.

A group jungle hike.
Image credit: @visitnaturaldetoxresort
Declutter your mind, boost your mood, and get some fresh air with a guided jungle hike.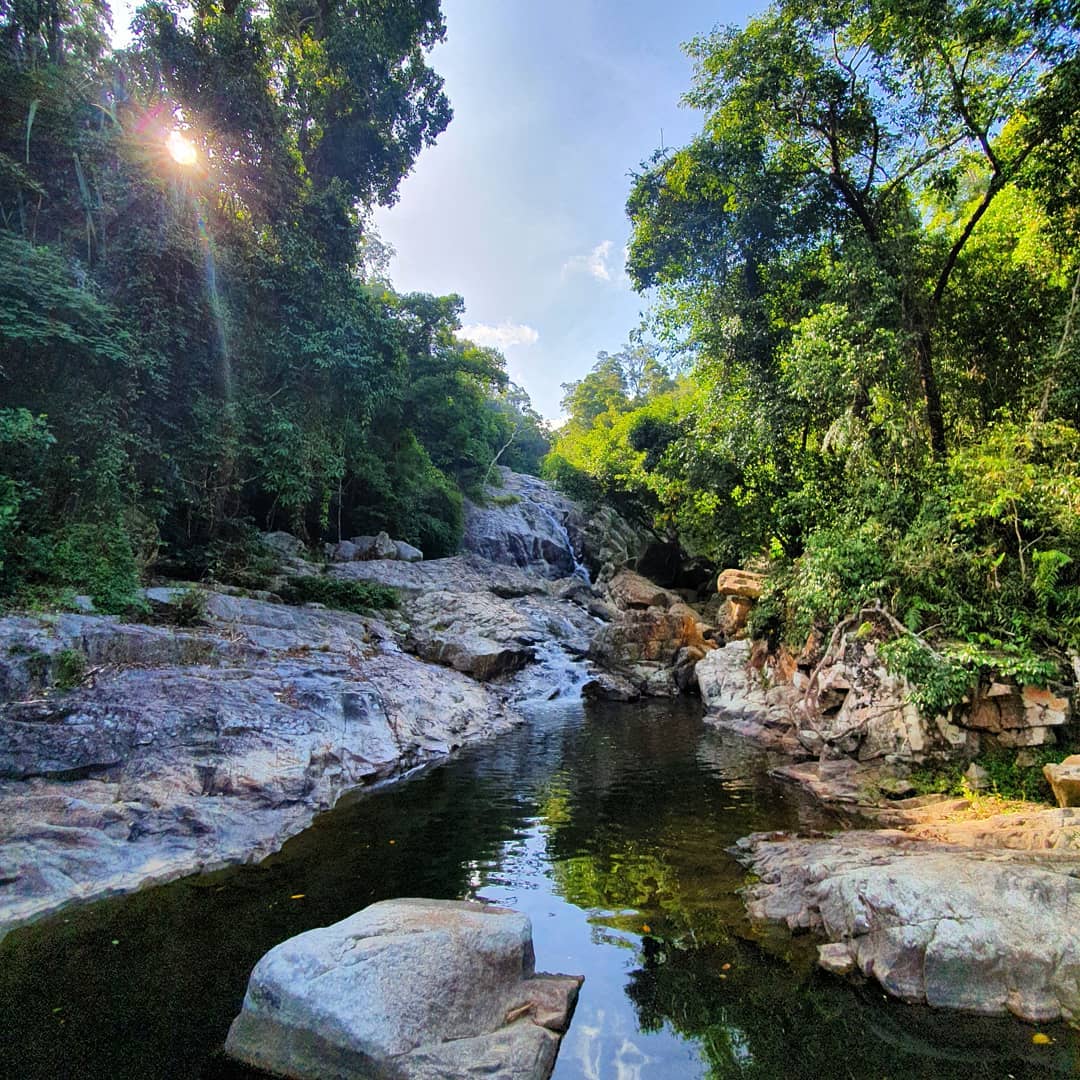 Image credit: @visitnaturaldetoxresort
There's a natural waterfall along the route where you can take a dip to reward yourself for racking up those kilometres.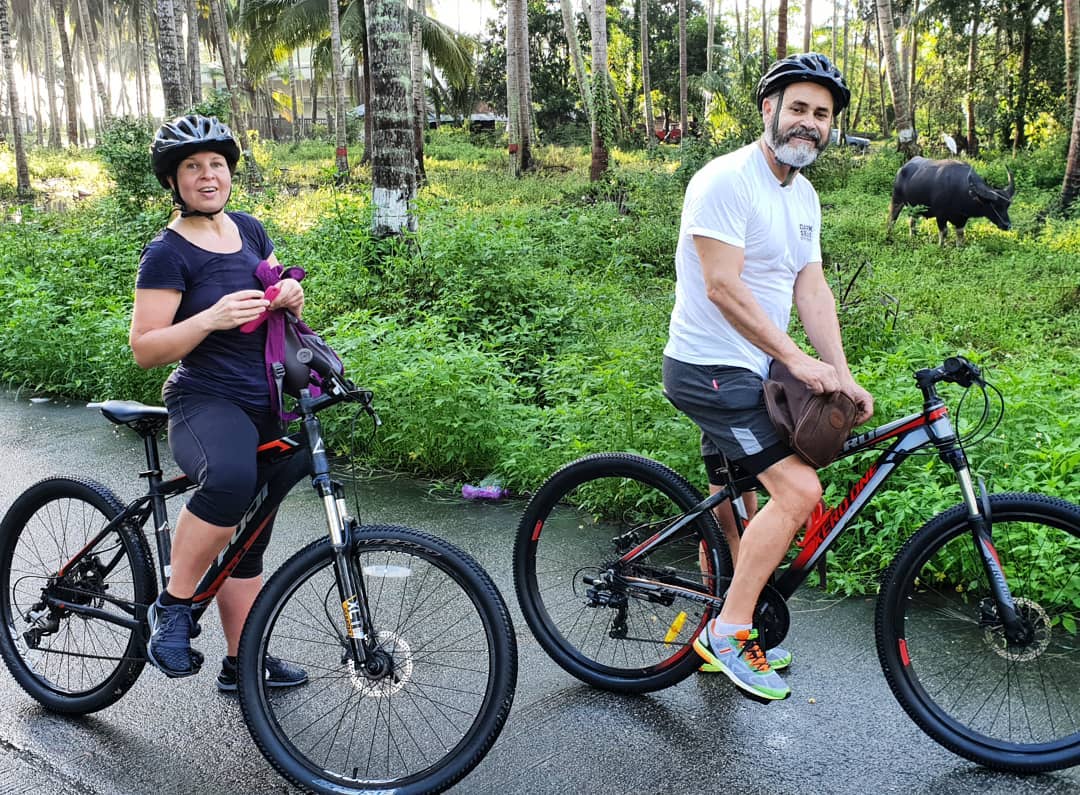 Image credit: @visitnaturaldetoxresort
The cycling classes here will take you through temples, villages, and lush greenery, with all gear and guidance provided.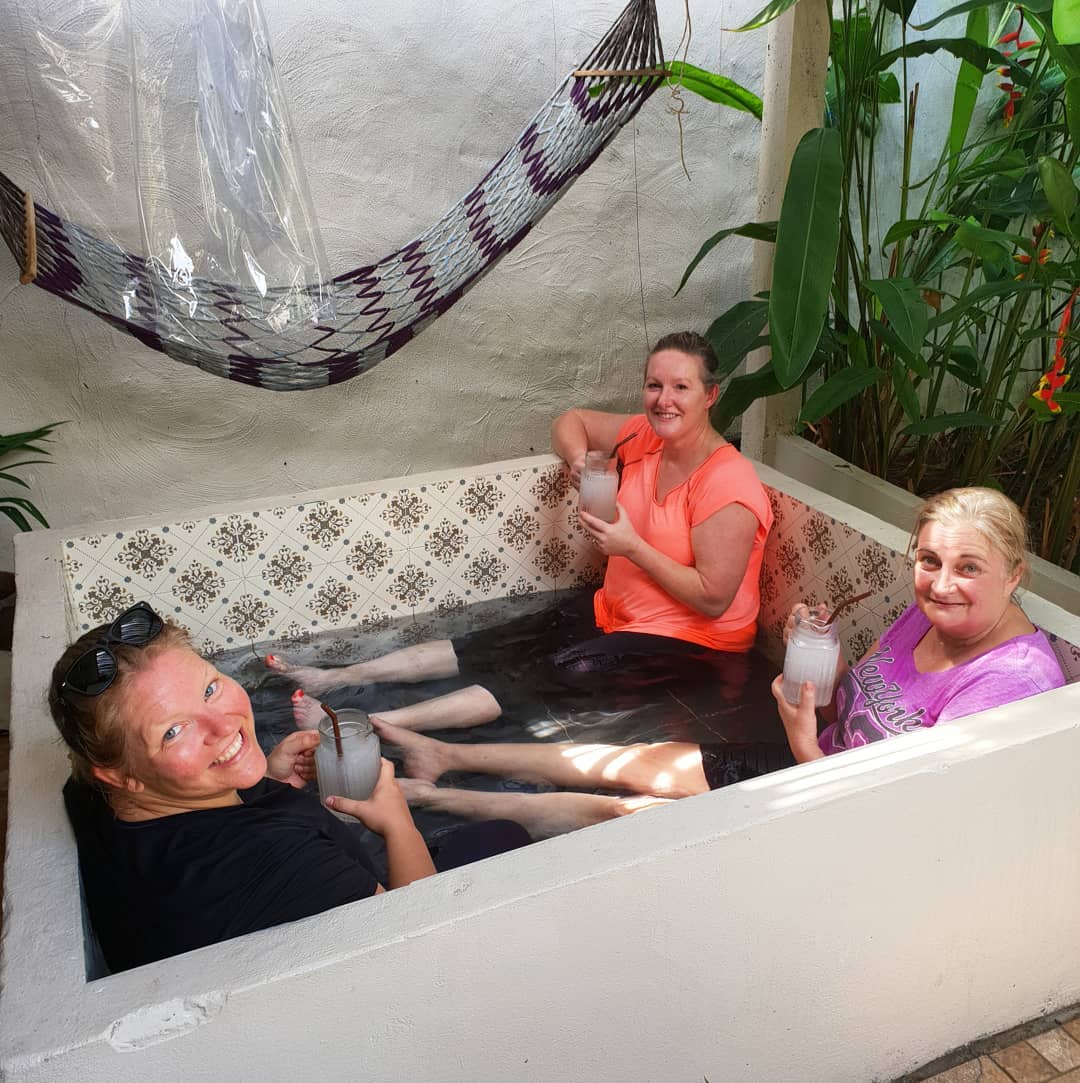 An ice bath.
Image credit: @visitnaturaldetoxresort
After your outdoor workouts, soak in an ice bath with a refreshing drink to heal those muscles and signal to your body to sleep deeply throughout the night.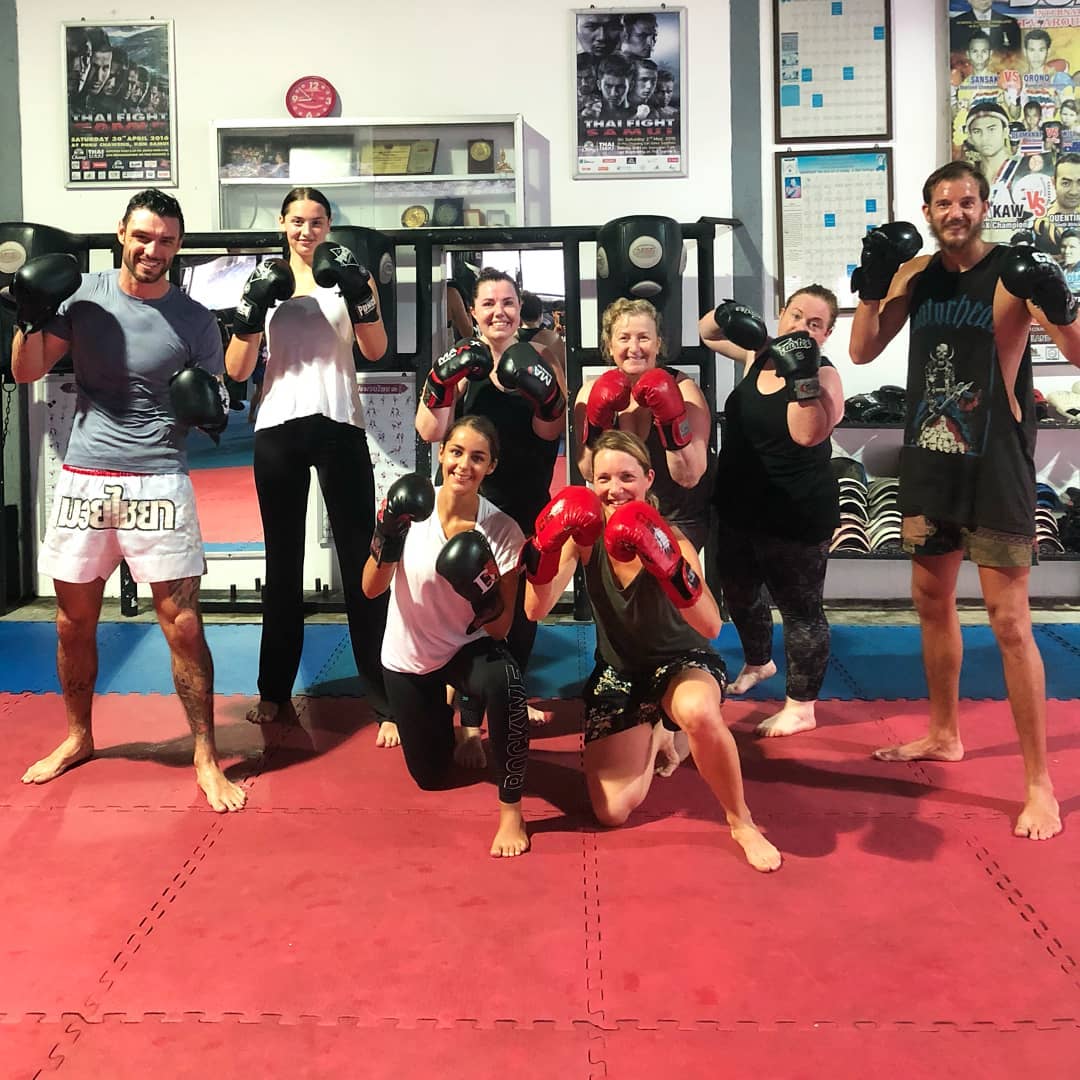 Image credit: @visitnaturaldetoxresort
Back at the resort, try your hand at Muay Thai boxing. While you won't become a Rajadamnern Stadium star overnight, it'll strengthen your muscles, burn more calories, and boost your confidence as you pick up self-defence basics from a professional trainer.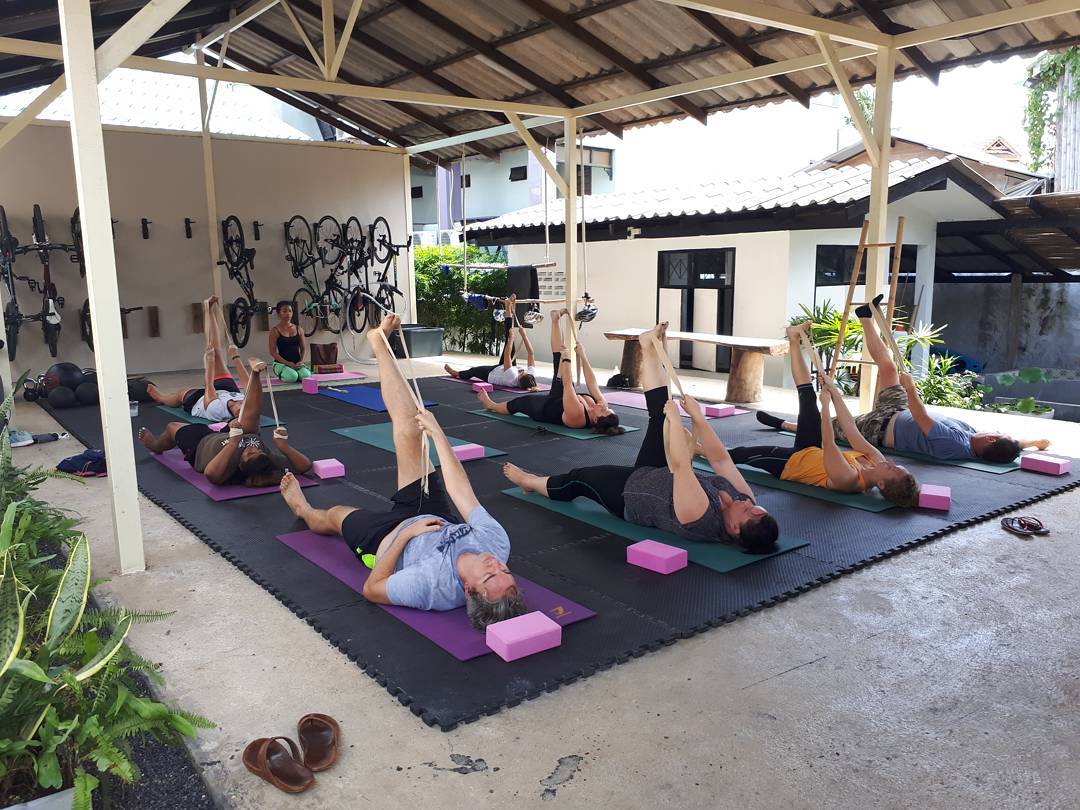 Image credit: @visitnaturaldetoxresort
For a more low-impact exercise, attend a yoga practice session. Mats, blocks, and straps are provided as a professional yogi takes you through different poses to help regain your focus.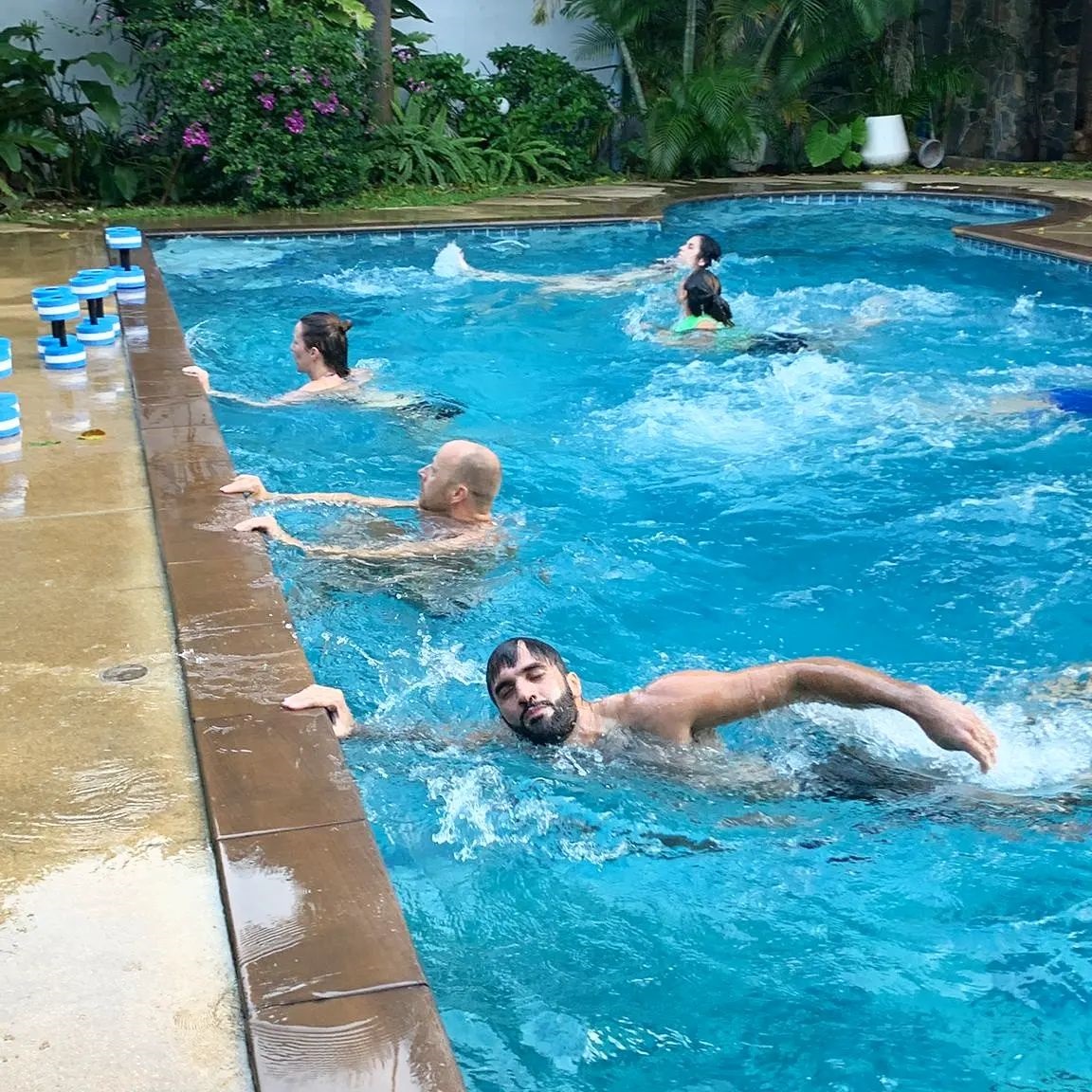 Image credit: @visitnaturaldetoxresort
Enjoy low-impact aqua fitness exercises with dumbbells, kickboards, and hand paddles all provided at the resort.
---
Get a relaxing full-body massage and treatments
---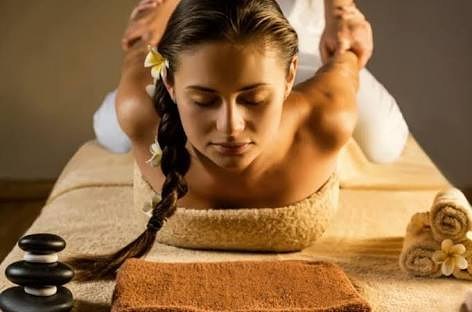 Image credit: @visitnaturaldetoxresort
The in-house massage therapists' treatments will work on your stress and muscle tension, and improve blood circulation and immunity.
Not to worry if you've never tried a Thai-style massage, as your therapist will explain their techniques and benefits, and you can let them know what level of pressure you prefer.
---
Feel healthier with nutritious organic, vegan, and vegetarian cafe dishes
---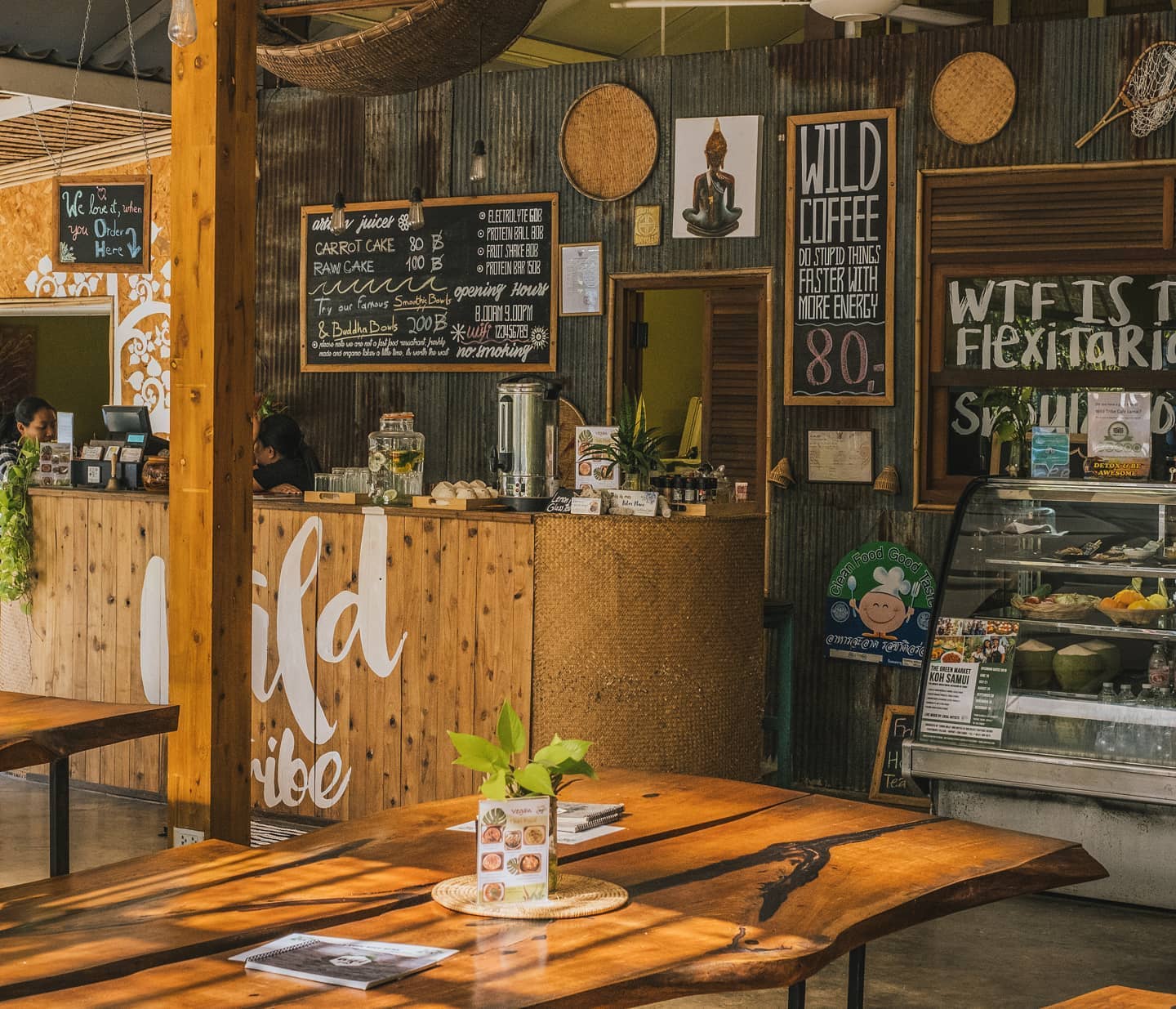 Image credit: @visitnaturaldetoxresort
While your workouts will help strengthen your muscles and immunity, vegan and vegetarian food recipes can provide the nutrition to keep your body going on your island reset.
Located in the resort, The Wild Tribe Superfood Cafe is a plant-based restaurant serving plenty of nutritious vegetarian superfood dishes to cleanse and recharge your body. Each dish is cooked from scratch and planned by a nutritionist to have maximum health benefits..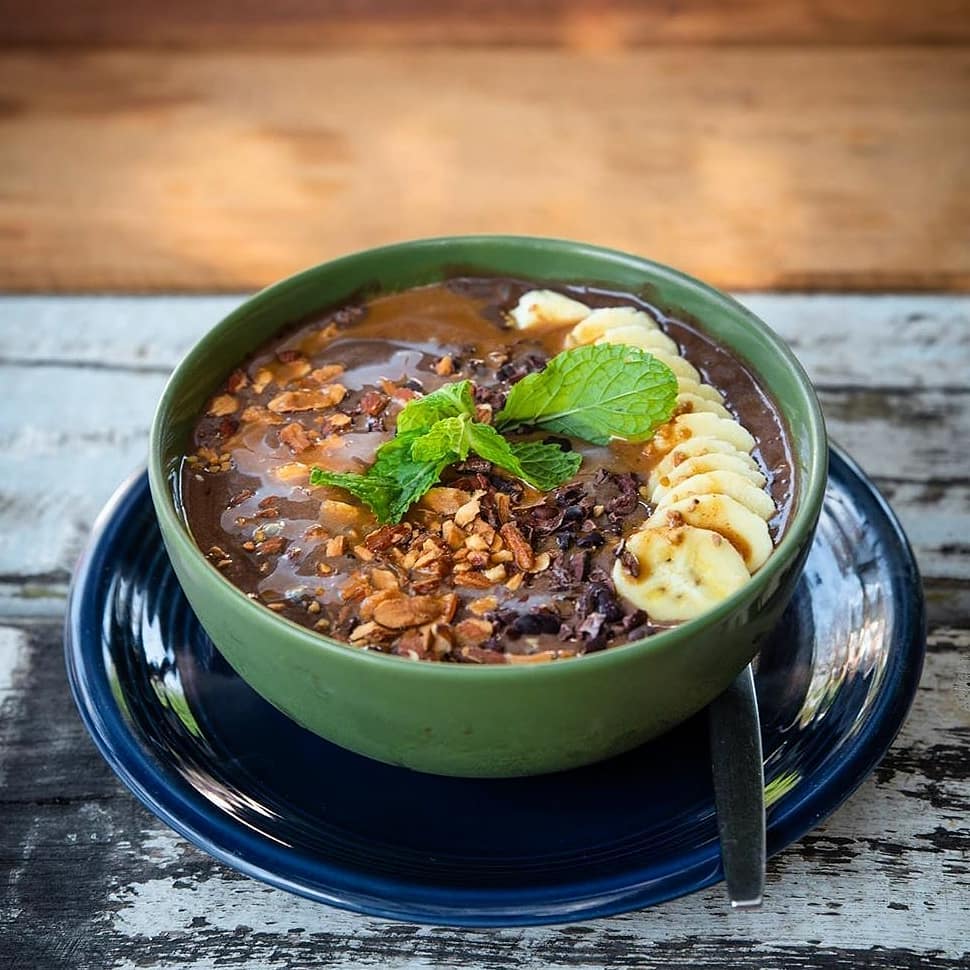 Image credit: @visitnaturaldetoxresort
Check out their Chocolate Lover for ฿239 (~USD6.82), a smoothie bowl of almond milk, pea protein powder, bananas, organic cacao, and coconut syrup topped with almond butter, almonds, and bee pollen. Packed with vitamins, fibre, and proteins, it'll help boost your energy levels.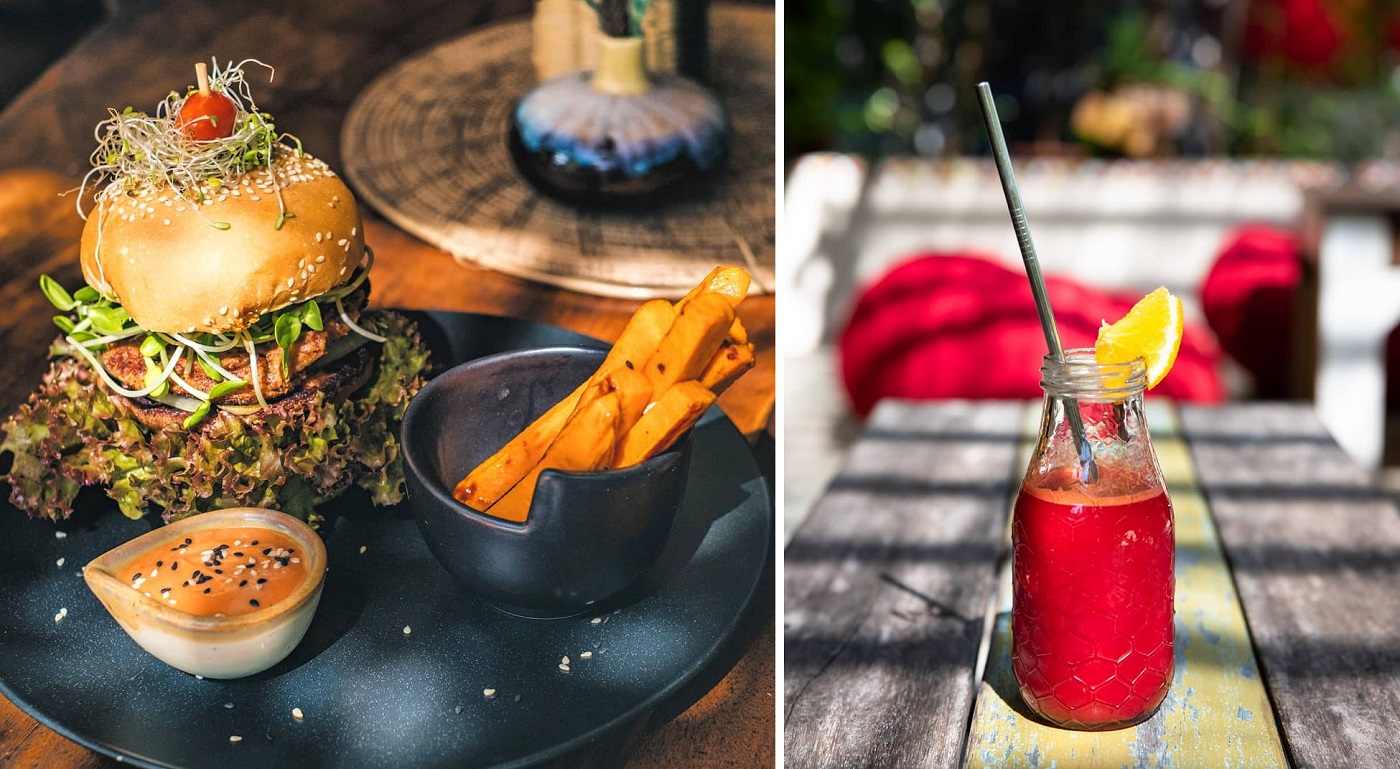 Image adapted from @visitnaturaldetoxresort and @visitnaturaldetoxresort
---
Choose the stay that fits you
---
Unlike resorts where you pay for accommodation and services separately, experiences here are all-inclusive so you can get the most out of what's offered. First, pick how long you can stay – packages come in 8-day, 15-day, or 4-week-long versions, but feel free to ask should you wish to stay for a different duration or longer.
Next, pick between room + classes or all-inclusive packages.
Room + classes packages include hiking, yoga, strength and conditioning, cardio and aquagym, Muay Thai boxing, cycling, swimming, and guided meditation for all levels, including access to 3 classes daily. Plus, a private fitness assessment, ice bath, fat-burner supplements and a herbal detox overnight flush are included.
All-inclusive packages also come with 3 raw, vegan, or vegetarian daily meals, daily detox shakes, soup, coconuts, kombucha, organic coffee, and tea, daily one-hour massages, and more.
Finally, pick between 24 sqm superior rooms or 16 sqm Thai-style bungalows with balcony seating areas. All accommodations come with free Wi-Fi and air-conditioning, private bathrooms, safety boxes, tea and coffee makers, fridges, towels and linen, and welcome pets.
The full list of prices is available here.
---
Getting to Visit Natural Detox Resort
---

Koh Samui Airport.
Image adapted from @jamieleehm
The resort is a 30-minute drive from Koh Samui airport, along a scenic seaside road. The resort can arrange a transfer from the airport for your convenience.
---
Things to do near the resort
---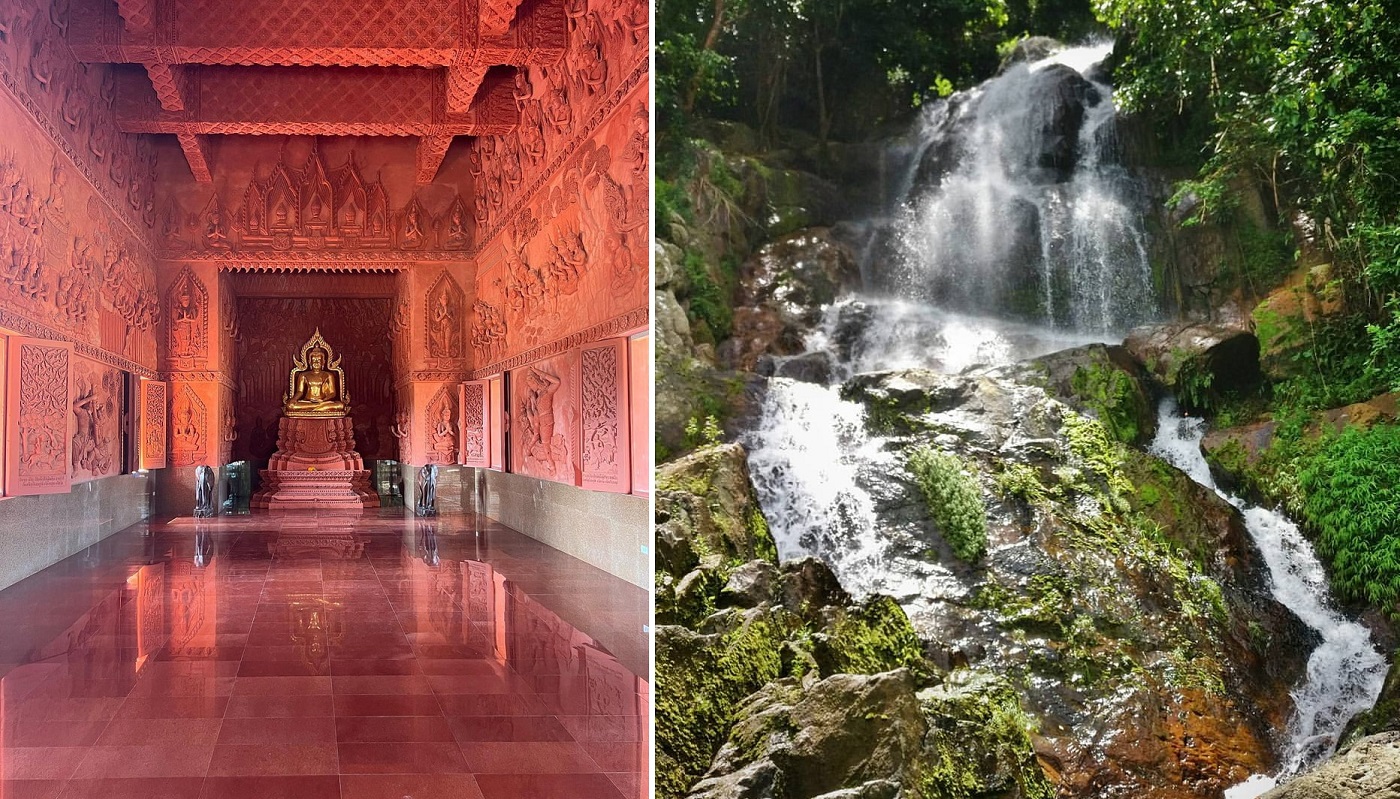 Wat Ratchathammaram and the Wang Sao Thong waterfall.
Image adapted from @moving_without_shaking and @sunilagarwal.slg
While on Samui, you'll get to explore several sights. Start with a visit to Wat Ratchathammaram, with eye-catching terracotta red carvings and a quiet view of the sea. Next, stop by the Guan Yu Shrine that's almost 300 years old and thought to be Thailand's oldest of its kind, dedicated to the god of war in Chinese folk belief.
The resort's group hikes may take you by some of these natural sights – the Wang Sao Thong Waterfall with a shaded lagoon where you can soak in, and the Lamai Viewpoint which you can also reach by cable car or take a zipline downhill from.
---
Enjoy a healthy lifestyle at Visit Natural Detox Resort
---
More than just a fitness retreat, Visit Natural Detox Resort is an all-in-one health and nature experience to reset your mind and spirit and build a positive outlook for the year. Plan to stay at least a week to reap the most mental and physical benefits – your schedule will be packed with all things rejuvenating.
Spots are open for 2023, so make your reservations here:
Visit Natural Detox Resort
Address: 129 Tambon Maret, Ko Samui District, Surat Thani 84310 
Contact: +66 80 112 5541 | Visit Natural Detox Resort's Facebook | Instagram | Google Maps
Also check out:
---
Cover image adapted from: @visitnaturaldetoxresort, @visitnaturaldetoxresort, @visitnaturaldetoxresort, and @visitnaturaldetoxresort
Resort images in this article are used with permission from Visit Natural Detox Resort's website and the resort's social media.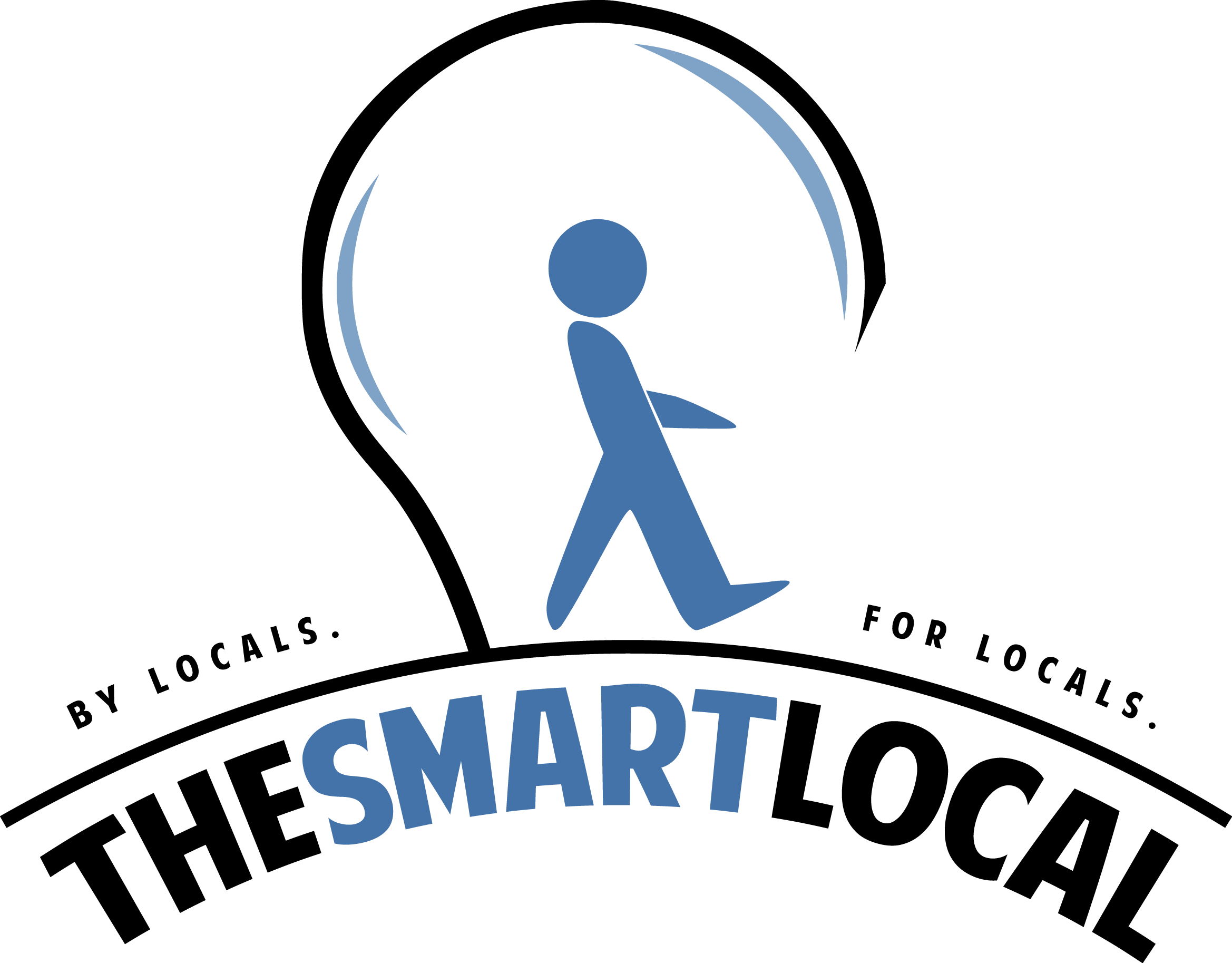 Drop us your email so you won't miss the latest news.