Themed Bangkok cafes to visit 
---
Bangkok may be a city that's full of cafes in every nook and cranny, but Bangkok cafes with specific features take some effort to find.
When it's time to plan ahead to meet our homies to catch up over the weekends, we may be hard-pressed to find an original space to hang out in Central Bangkok. Especially since we all know the city we know and love is basically a concrete jungle, besides the glitzy Siam shopping district which we've all visited way too many times.
To help you determine which are still open, we've made a list of 15 themed Bangkok cafes that feature stunning gardens, a giant plane, and even a '50s-style diner. So the next time your friend asks you out, you'll be able to surprise them with a cool place to visit.
---
1. Fats & Angry Ari – 50s diner-themed cafe
---
Image credit: @fatsandangry via Instagram
We sometimes like to imagine what living in the 50s was like. Some of us even wish that we could go back and live in those times ourselves, despite knowing it's impossible. Fats & Angry Ari is a '50s-themed cafe that's designed to look like a nostalgic diner in the US, but conveniently located in Ari, Bangkok instead.
When you push open the teal door, you may just recall Netflix shows like Riverdale or Stranger Things upon seeing the colourful, neon-lit interior.
Image credit: Cafe Story : รีวิวคาเฟ่ ทุกวัน
We love the checkered black and white tiled floors, and old-school posters lining the walls, which all add to the authentic retro atmosphere.
Image credit: @fatsandangry via Instagram
Different kinds of dishes and drinks are on the menu – think milkshakes, burgers and deep-fried sides – served up on retro plates and tall glass cups.
If you've no idea what to get. I'd recommend trying the California Cheeseburger for ฿190 (~USD5.70) – opt for pork or beef patties depending on your preference – along with a Hazelnut Milkshake for ฿165 (~USD5).
Perfect for snapping IG pics of ourselves with their signature milkshakes just like Archie or Betty in Riverdale.
Address: 25 Ari 4 Fang Nua Alley, Samsen Nai, Phaya Thai, Bangkok 10400
Opening hours: 11am-8pm, Daily
Nearest train station: BTS Ari
Telephone: +66 8 3259 9258 
Fats & Angry's Facebook | Google Maps
---
2. Sretsis Parlour – 2-storey bohemian tea room with European influences
---
Image credit: bkkmenu
Sretsis Parlour is a hidden tea room in central Bangkok – tucked away on the second floor of Central Embassy, a Bangkok mall. With European influences, the cafe used to be a clothing store.
Upon entering the premises, you'll feel like you've been teleported into somewhere in Europe with its iconic wall adorned in floral motifs on the left, and its royal blue tasselled curtains draped above the domed interior.
The dark green bar, paired with the tiered cupboard, provides a contrast to the vintage chairs and tables that remind us of France's boutique tea parlours.
Image credit: @pooklooksflower via Instagram
While there, stop by the spiral stairs in the heart of the cafe that will take you to the second floor. You'll get to have a close-up look at the curvature of the domed white ceiling and antique chandelier, and further seating options.
Image credit: @foodography.sf via Instagram
If you're impressed by the attention to detail with the decor, wait till you see their dainty desserts. What you see on the bottom-most plate are Baby Cakes at ฿95 (~USD2)/piece. They have four flavors for customers to choose from: Strawberry (light blue), Rose (pink), Mango Passionfruit (yellow), and Blueberry (purple).
And as for drinks, our pick would be their Surprise Coffee at ฿190 (~USD5)/cup, which guests can expect a 'surprise' in the form of random latte art.
Address: Central Embassy, Level 2 Lumphini, Pathum Wan, Bangkok 10330
Opening hours: 10am-8pm, Daily
Nearest train station: BTS Phloen Chit
Telephone: +66 2 160 5875
Sretsis Parlour's Facebook | Google Maps
---
3. 747 Cafe – sip iced coffee in a mega plane
---
If typical Bangkok cafes bore you, you'd probably be blown away by this next concept – a cafe inside a plane.
747 Cafe is an enormous themed cafe in Lat Krabang that is housed entirely within a big plane – so that customers can pretend to be on the plane while sipping on their lattes.
To get aboard, you'll need to buy a ticket which will allow you access to a drink within the main seating area. The ticket price is at ฿120(~USD3)/person, and if your drink's price is beyond the ticket price, you can top up the difference for fancier drinks.
Image credit: @monladaja via Instagram
After boarding, you'll notice a spacious dining area with a long marble table and high bar stools in the middle. On both sides, 'window seats' are available for those who prefer a view of the outside. The good news is that guests will face zero turbulence, and the seat belt signs will be switched off for the duration of your ride.
After finishing your meal, you might wanna roleplay as an aeroplane pilot – kiddos who've dreamed of this moment since childhood, we gotchu. Thankfully, the 747 Cafe has a cockpit where people flock to pose as pilots for their IG snapshots.
Address: 627 1 Luang Phaeng Rd, Thap Yao, Lat Krabang, Bangkok 10520
Opening hours: 10am-7pm, Daily
Telephone: +66 9 9567 7747
747 Cafes Facebook | Google Maps
---
4. The Wood Land – a cafe with a treehouse loft and small shacks
---
Fans of al fresco dining may agree that opting for air-conditioned Bangkok cafes can feel rather sterile at times. The Wood Land's main premise is to let guests bask in the fresh air on a grassy area, with drip coffee handmade by their baristas. FYI, the entrance to this hidden cafe in Bangkok is denoted by their iconic grey wall which is unmistakable when you approach.
Walking through the entrance, you will see small wooden shacks which double up as ordering counters for coffee. Guests can either choose to sit on the ground or on the side chairs with fluffy cushions.
Image credit: @khunn_tham via Instagram
Of course, if you're a UV hater, snag a seat at the open shelter where you and your friends can sit in a circle and discuss whether you liked the trippy Doctor Strange movie you caught last week.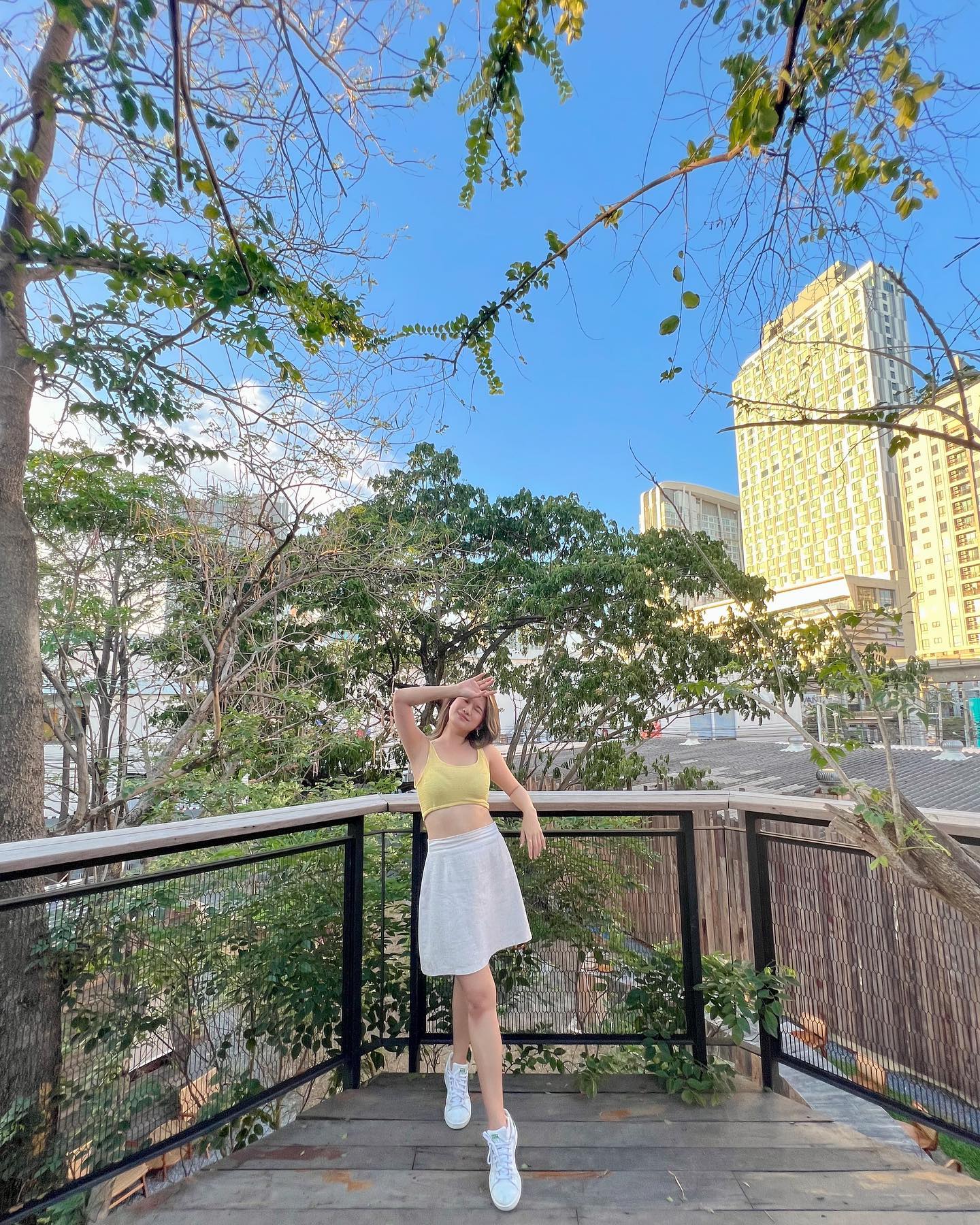 Image credit: @lilymst_ via Instagram
Before you leave, go up to the viewpoint on the treehouse via a circular flight of steps, to capture chic poses with the view of the buildings behind for your IG stories. This cafe is also pet-friendly, so do feel free to bring your fur friends along for the ride.
Address: 17 Sukhumvit 52 Alley, Phra Khanong, Bangkok 10260
Opening Hours: Mon & Wed-Fri 9am-6.30pm | Sat-Sun 8.30am-7pm (Closed Tuesdays)
Nearest Train Station: BTS On Nut
Telephone: +66 6 1391 1754
The Wood Land's Facebook | Google Maps
---
5. PAGA Microroastery – cafe in Sukhumvit that looks like an Apple store
---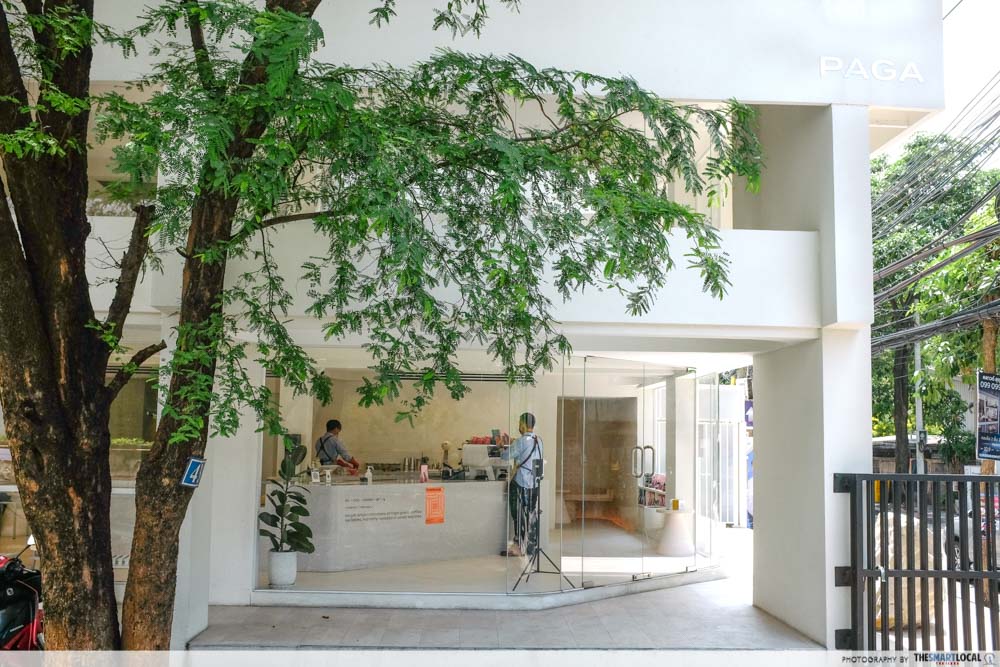 Driving past, you might not be able to tell that this is a cafe that serves speciality coffee with single-origin micro lots. That's the charm of PAGA Microroastery – a white minimalist cafe hidden in Sukhumvit 31, about a 10-minute walk from the Sukhumvit MRT station.
PAGA is a multi-storey cafe which is decked out in hues of creamy white, contributing to its minimalist look. Basically, when you push the door open, employees behind the grey marble bar will greet you with a smile and be ready to help you with your order. We still can't shake the cafe's resemblance to an Apple store, and whether they'll whip out an iPhone instead of a iced latte.
After getting your order, look for the wall-mounted table against a big glass window on your left where you can sit and gaze at the surroundings outside.
Image credit: @namaunkk via Instagram
If you like trying new things when visiting Bangkok cafes, I'd recommend its signature Freddo at ฿150 (~USD4) which has a similar milky approach akin to Greek coffee or Rosemary at ฿290 (~USD8) – a cold brew mixed with orange liqueur and rose lemonade.
So if you happen to run some errands in the vicinity of this alley, pin this place on our radar for a spot of specialty coffee.
Address: 45, 1 Soi Sukhumvit 31, Khlong Toei Nuea, Watthana, Bangkok 10110
Opening Hours: 8AM – 5PM, Daily
Telephone: +66 8 0 009 6292
PAGA Roastery's Facebook | Google Maps
---
6. Ternajachob – greenhouse cafe in a garden
---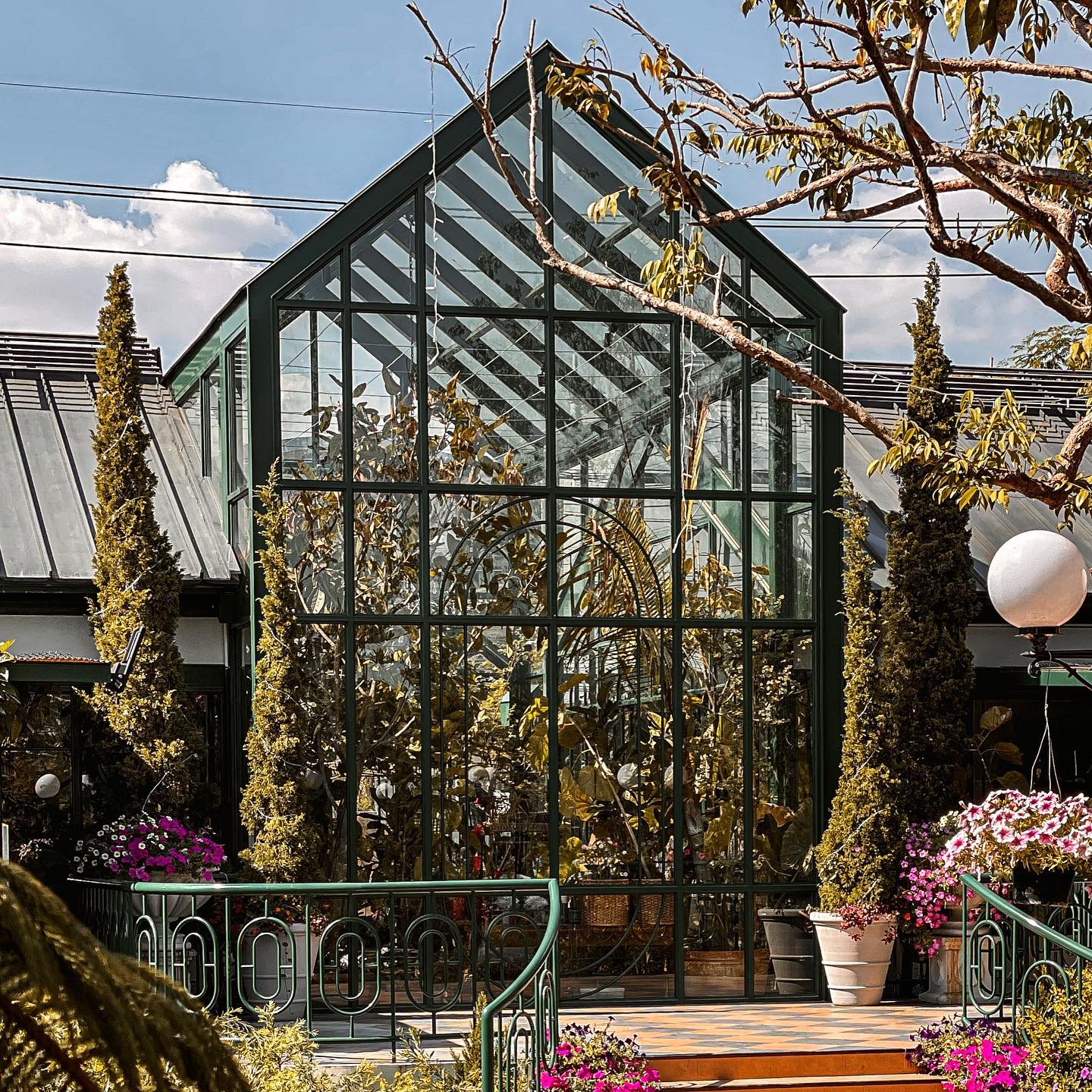 Image credit: @ahappystoryy via Instagram
Ternajachob – which translates to "You might like it" in English – is a cafe that resembles an actual glass greenhouse, right smack in the middle of a garden.
Image credit: @chocwhitedark via Instagram
Before you enter the main area, however, you'll first walk through the forested area outdoors that few Bangkok cafes can brag about having, complete with a stone fountain as a lavish centrepiece.
Image credit: @ploy__nuzzyyy__ via Instagram
Keep walking farther, and your curiosity will lead you to this stone cottage and bridge hidden among bushes and trees, at which point you'll know exactly what you have to do with your camera.
After this little journey, go back inside the greenhouse, we'd recommend grabbing a Ham & Cheese Sandwich at ฿175 (~USD5) together with an Iced Lemon Tea at ฿115 (~USD3) to curb any random hunger pangs that may arise.
Address: 24, 6 Chaloem Phrakiat Rama 9 Alley, Prawet, Bangkok 10250
Opening hours: Mon–Fri 11am-9pm| Sat-Sun 9am-9pm
Telephone: +66 8 2695 6226
Ternajachob's Facebook | Google Maps
---
7. The Gardens of Dinsor Palace – dine next to a pond with live swans
---
For those who adore an upscale dining experience amidst nature, this next cafe should be your go-to spot for weekend brunches. The Gardens of Dinsor Palace is a spacious, forested cafe that will allow you to chill among trees and a pond while digging into a hearty meal.
When being led inside by a server, you'll likely be surprised by how large the outdoor dining area is compared to other Bangkok cafes. No matter where you look, you can expect to see lush greenery and ample seating.
Sitting outside may make you work up sweat whenever Bangkok gets humid, so there's also an indoor dining room with aircon for those days.
Image credit: @haryaty.henny via Instagram
We'd highly recommend grabbing a table next to the central pond. Don't be too surprised if you spot a black or white swan swimming around near the fountains.
As for food, I'd recommend Spinach & Mushroom Omelette for ฿260(~USD7), paired with an Iced Chocolate for ฿140 (~USD4) to fill your bellies at lunch. Do note that pricing is a little steeper than usual, but we think it's justified thanks to the truly royal dining atmosphere and concept here.
Address: 1217/2 Khlong Tan Nuea, Watthana, Bangkok 10110
Opening Hours: Mon – Fri, 11AM – 11PM | Sat – Sun 9AM – 11PM
Telephone: +66 2 714 2112
The Gardens of Dinsor Palace's Facebook | Google Maps
---
8. Natura Cafe – waterfront cafe covered in greenery
---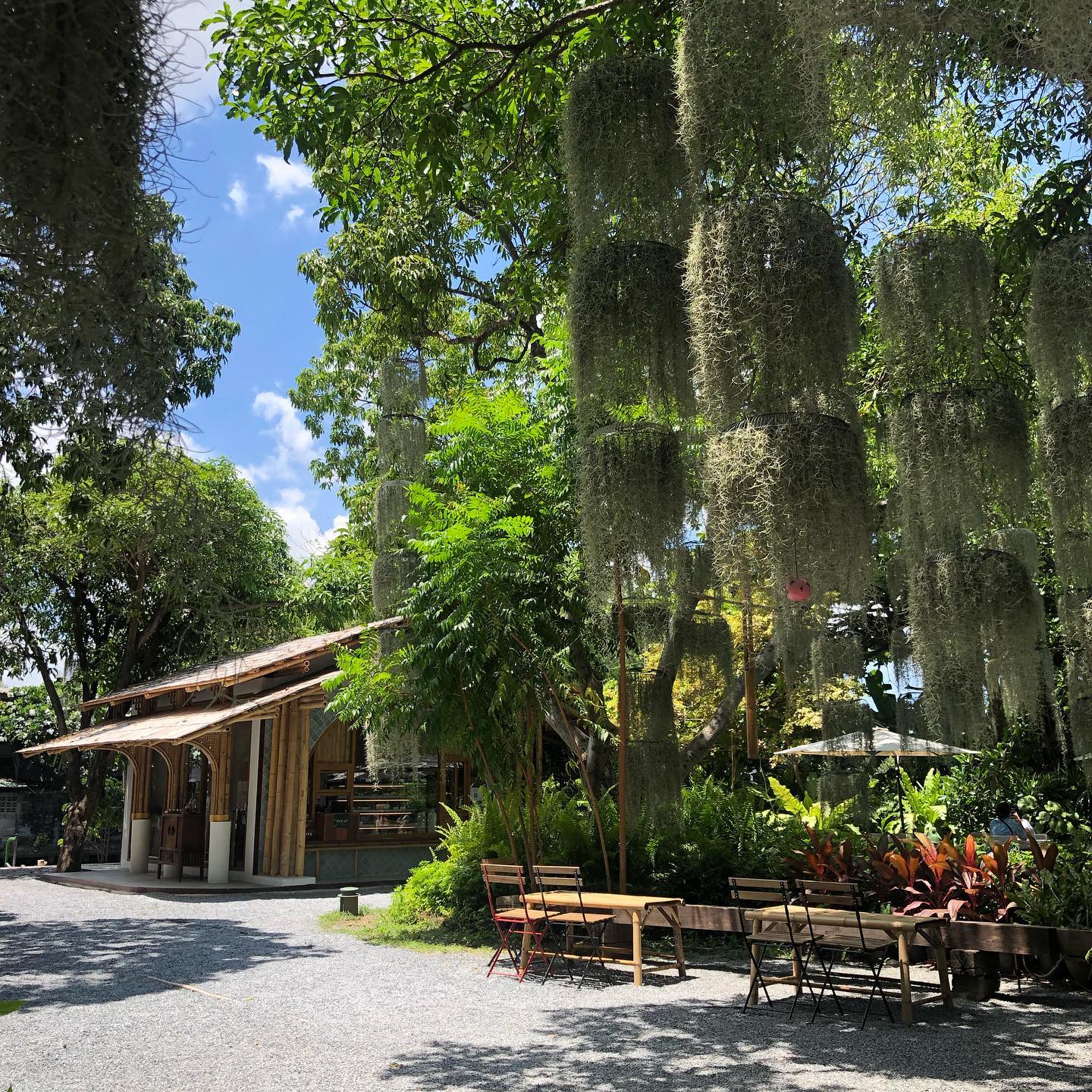 Image credit: @kisaiboom via Instagram
Another green cafe that you should check out is Natura Cafe, a waterfront bistro in Chom Thong, Bangkok, that welcomes their customers with towering trees and an actual canal parallel to the dining area.
Follow the path and you'll catch sight of a bamboo cabin where a barista will greet you. Drinks on the menu include Litchi Americano at ฿125 (~USD3), for a fruity twist to your pick-me-up caffeinated drink every morning.
After you've settled on your coffee, tea or juice of choice, walk over to the main seating area alongside the canal.
Image credit: @storyofthailand via Instagram
We've absolutely loved the bamboo-themed furniture – be it on the chairs, tables, or partitions on both sides.
Image credit: @biewjiez via Instagram
On the right, there's an iconic banana tree towering over guests, but when you look up on the left side, you'll also spot some layered hanging grass plants – all part of the beautiful forested canopy overhead. Just for a moment, we'd reckon an image of yourself chilling at an Amazonian rainforest – which could be a fun photo op for IG.
This cafe is great for those seeking an escape from the concrete skyscrapers of Bangkok's CBD area, so def pay this one a visit if you'd like a literal breath of fresh air.
Address: 9, 3 Moo 6 Chom Thong, Bangkok 10150
Opening Hours: 10AM – 6PM, Daily
Telephone: +66 8 5123 1386
Natura Cafe's Facebook | Google Maps
---
9. Puritan – old-timey European sculptures and hanging plants
---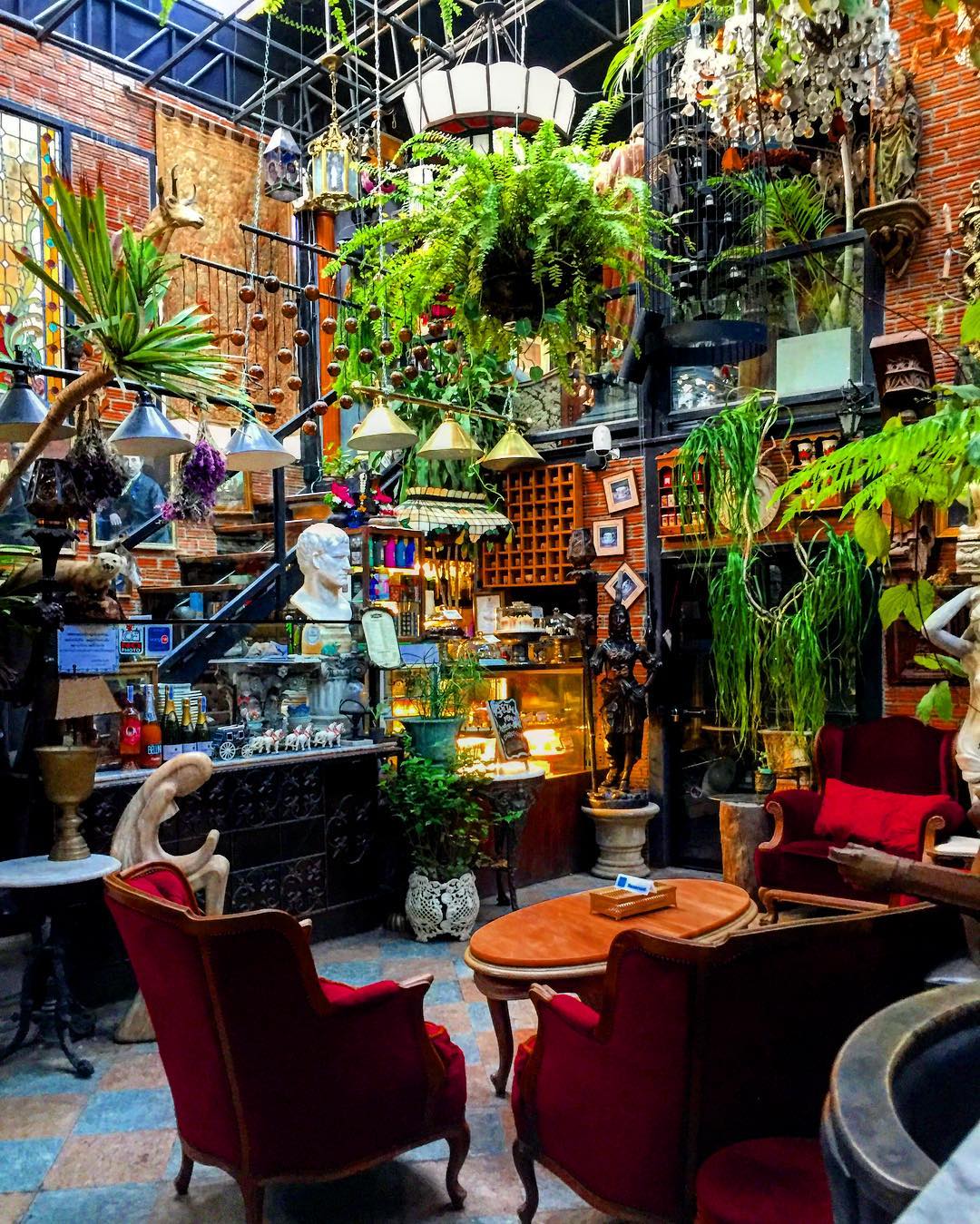 Image credit: @pooklooksflower via Instagram
Puritan boasts a quaint European-inspired interior that is reminiscent of a greenhouse with classic Greek sculptures, hidden amongst hanging potted plants. We spotted vintage photo frames hung upon classic brick walls, and tons of odd antiques scattered around the cafe's seating area.
Image credit: @xsanit7824 via Instagram
Journeying towards the heart of the cafe, you'll also spot vintage chandeliers, a bronze coat of arms centrepiece on the domed window, and other weathered marble statues. Basically, if you were to snap a pic here, we're sure no one will ask any questions if you claim to be in an eccentric millionaire's mansion somewhere in England.
Image credit: @pooklooksflower via Instagram
As for food, we'd recommend a fancy slice of Chocolate Baked Cheesecake at ฿210 (~USD6) as a standout choice on the menu, besides regular cups of coffee or tea you'd expect at a cafe.
Consider this cafe for your next chill sesh with the squad, especially if they're into that IG-worthy marbled countertop as a backdrop for their flat lay pics.
Address: 46/1 Soi Ari 5, Samsen Nai, Phaya Thai, Bangkok 10400
Opening Hours: Tue – Fri, 1PM – 9PM | Sat – Sun, 11AM – 9PM (Closed on Mondays)
Telephone: +66 2 357 1099
Puritan's Facebook | Google Maps
---
10. Featherstone Cafe – Gothic-themed bistro with Diagon Alley vibes
---
Featherstone is a Gothic-themed bistro and cafe hidden in Bangkok's Ekkamai district. Once you've parked your car at the lot, or approach the entrance on foot, you'll definitely notice the striking black exterior complete with brown window panes you'd see commonly in pubs within England.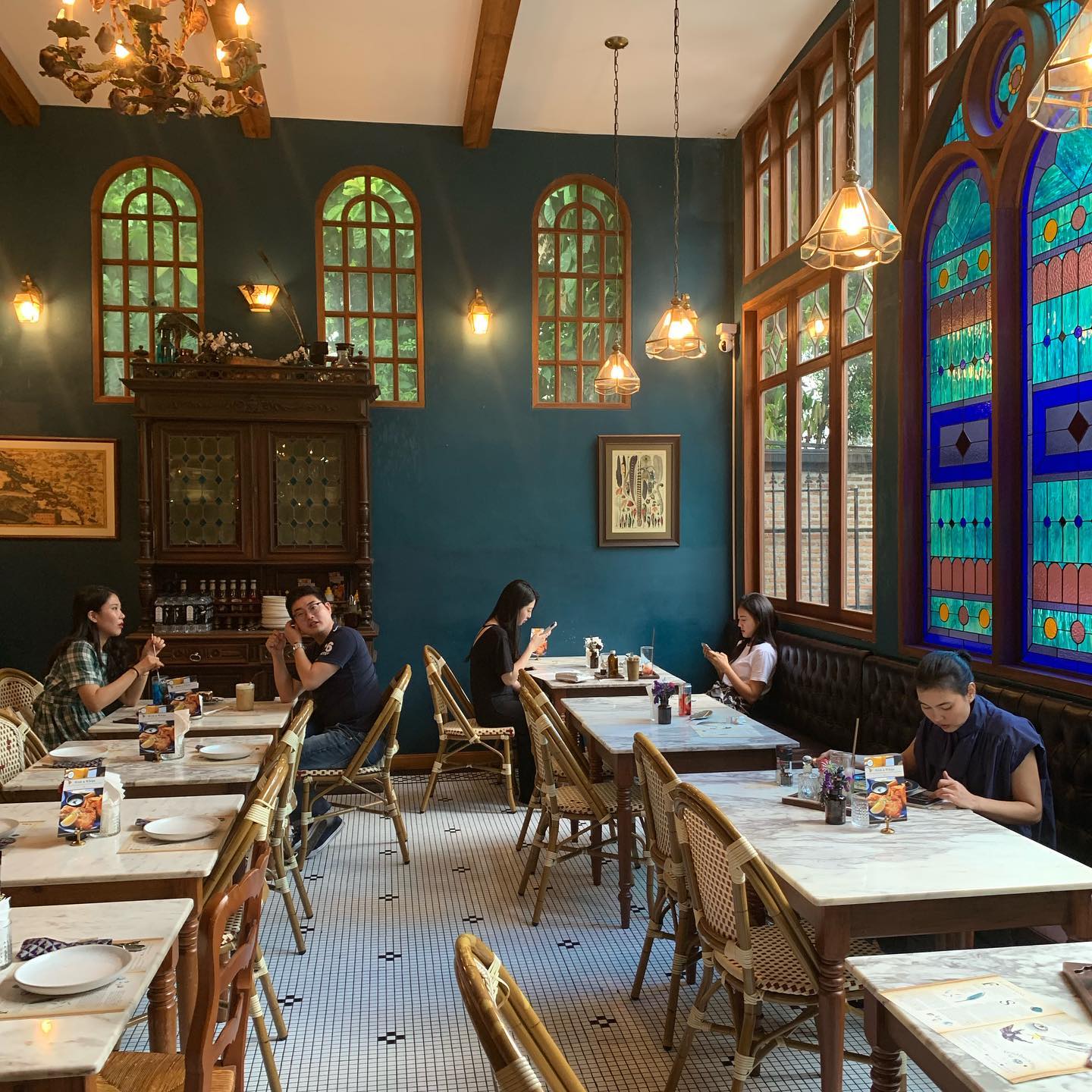 Image credit: @flat_1103 via Instagram
Passing through the door, the dining area is well-lit, with stained glass frames and art, as well as mood lighting, which complement the pub atmosphere – not unlike something you'd find in Diagon Alley from the Harry Potter franchise.
Opposite the stained glass windows, guests have free access to a counter and bar top area with plenty of drink options – from espresso to cocktails, there's a beverage for every time of the day.
Image credit: @truely.lj via Instagram
In the back room, we noticed that the seafoam green walls have an eclectic collection of butterfly taxidermy pieces. And interesting but unique creative choice for a dining room set-up, no doubt.
Also, the highlight of this room is a long banquet table that is decent for a big family dinner or birthday celebrations. So if you come with your buddies or family, you can book this table in advance.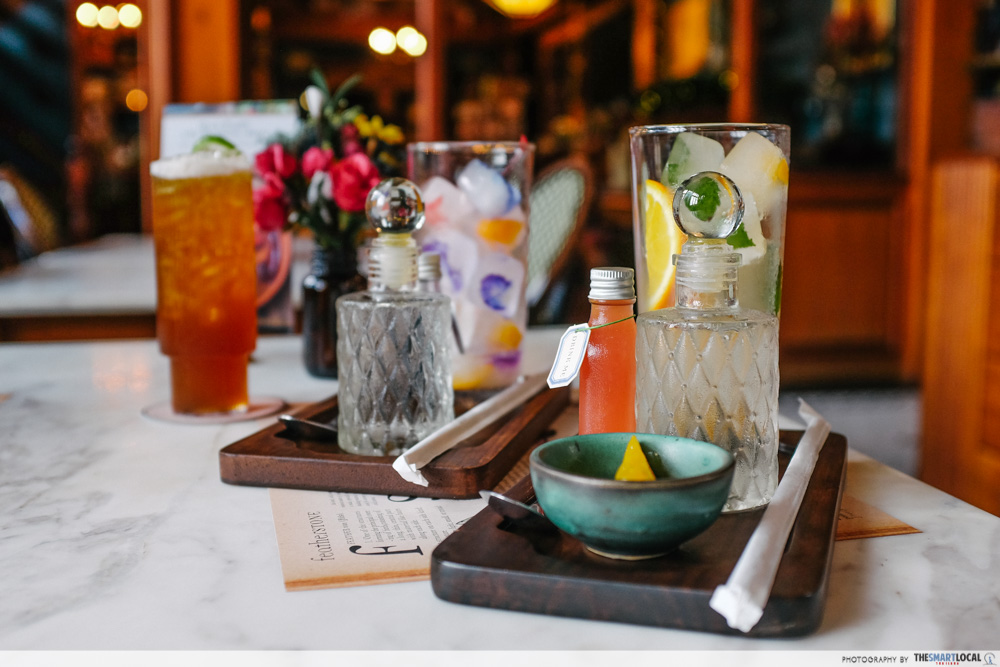 To combat the munchies, check out this adorable heart-shaped Egg Bacon & Cheese Pizza at ฿290 (~USD8), which topped with crispy bacon, egg yolk and mozzarella cheese. As for drinks, we'd recommend Wild Gardenia ฿140 (~USD4) which is a signature sparkling drink served with lavender syrup and soda.
Address: 60 Ekkamai 12 Alley, Khlong Tan Nuea, Watthana, Bangkok 10110
Opening Hours: 10.30AM – 10PM, Daily
Telephone: +66 9 7058 6846
Featherstone's Facebook | Google Maps
---
11. Oakland Cafe – spacious white tent for glamping with friends
---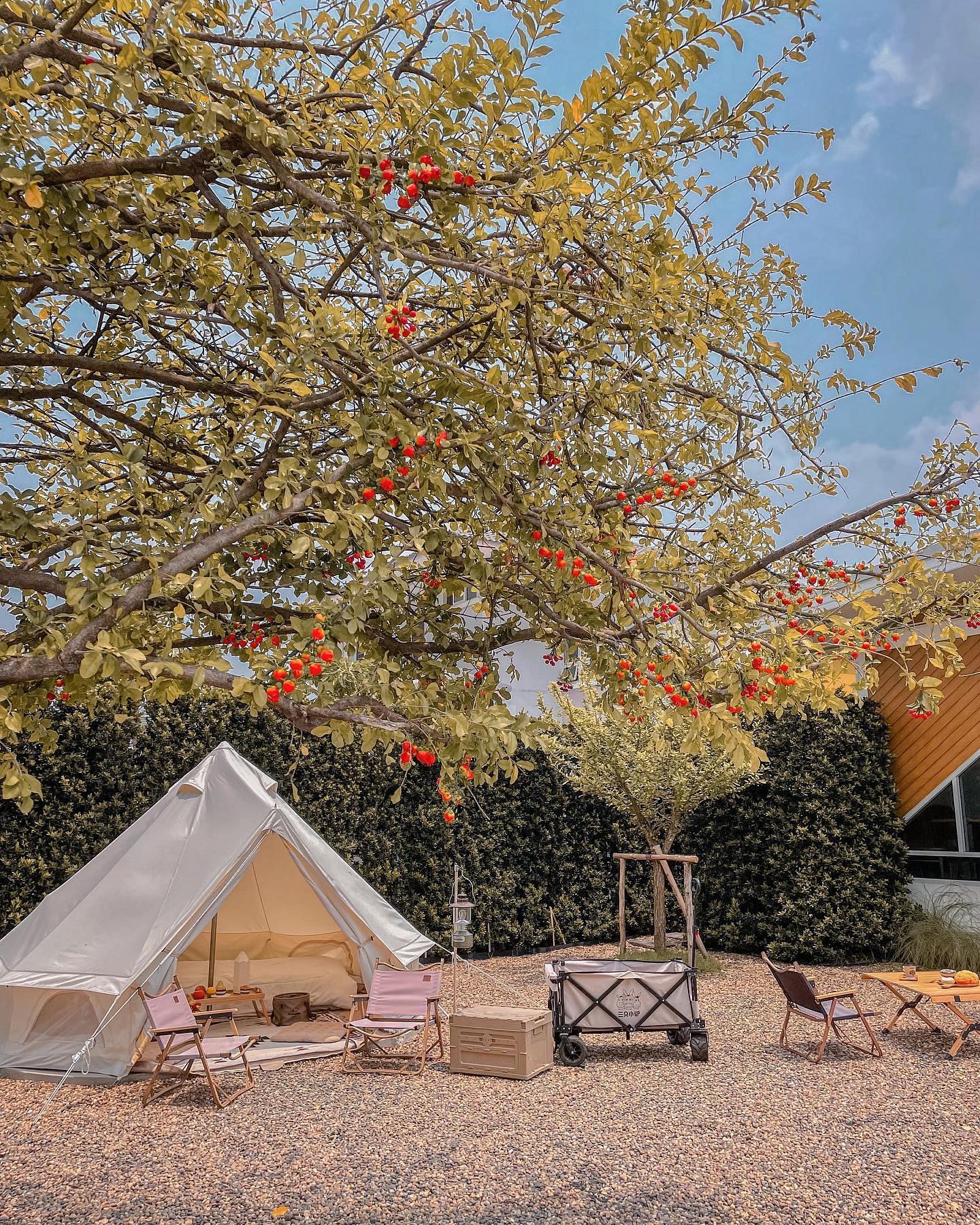 Image credit: @sawol.park via Instagram
Many of us lack time to go camping far away from the city as we're pinned to our piles of work in the office. Thankfully, Oakland Cafe has latched on to the glamping trend that's sweeping Thailand, so a camping trip with friends wouldn't be a pipe dream if you can't exactly leave Bangkok's city centre.
Image credit: @aormmy via Instagram
If you plan to chill out in one of their glamping tents in the main 'camping area', you'll spot a cosy bed along with books to read to kill time an Iced Matcha Latte for ฿95 (~USD2.8), made to order by in-house baristas.
As you walk towards the heart of the cafe, you'll notice many flowering shrubs lining your path.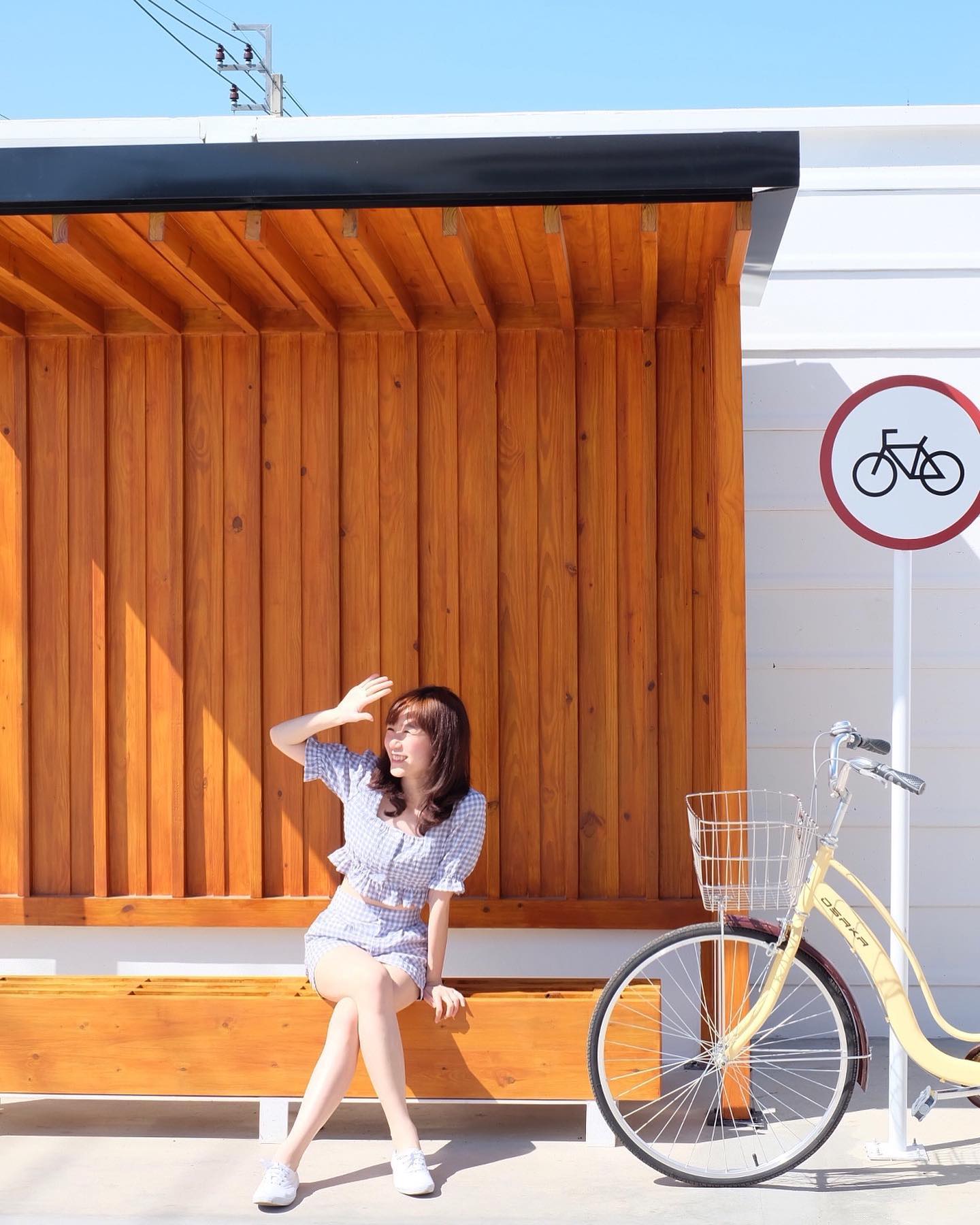 Image credit: @timetoeve via Instagram
For the eagled-eyed adventurers who've journeyed here, make sure to stop by the miniature wooden bus stop that might have your friends assuming you've somehow made it to Japan.
BTW, we've covered Oakland Cafe's menu options extensively in this previous article, so do check it out before you plan a trip over.
Address: 132 Ratchamontri Road, Klong Khwang, Phasi Charoen, Bangkok 10160 
Opening hours (cafe zone): 6am-6pm, Daily
Opening hours (restaurant zone): 10am-8pm, Daily
Telephone: +66 6 3824 2645
Oakland Cafe's Facebook | Google Maps
---
12. Shing A Ring A Ring Cafe & Bar – themed cafe that resembles Santa's house 
---
Image credit: Cafe Story : รีวิวคาเฟ่ ทุกวัน
Winter in Thailand is nothing like what you'd expect in the Western hemisphere. So when Christmas rolls around, and the kiddos are begging to see Santa's house, some of us might be caught in a dilemma. What if we told you there's a pretty committed team who'd be bringing that experience to guests every year, and that the cafe's not in the North Pole, but actually in the heart of Bangkok?
Shing A Ring A Ring Cafe & Bar is unabashedly inspired by a traditional white Christmas and Santa's toy workshop. You'll find the interior of the cafe furnished with retro furniture on a patterned carpet and rainbow glass windows.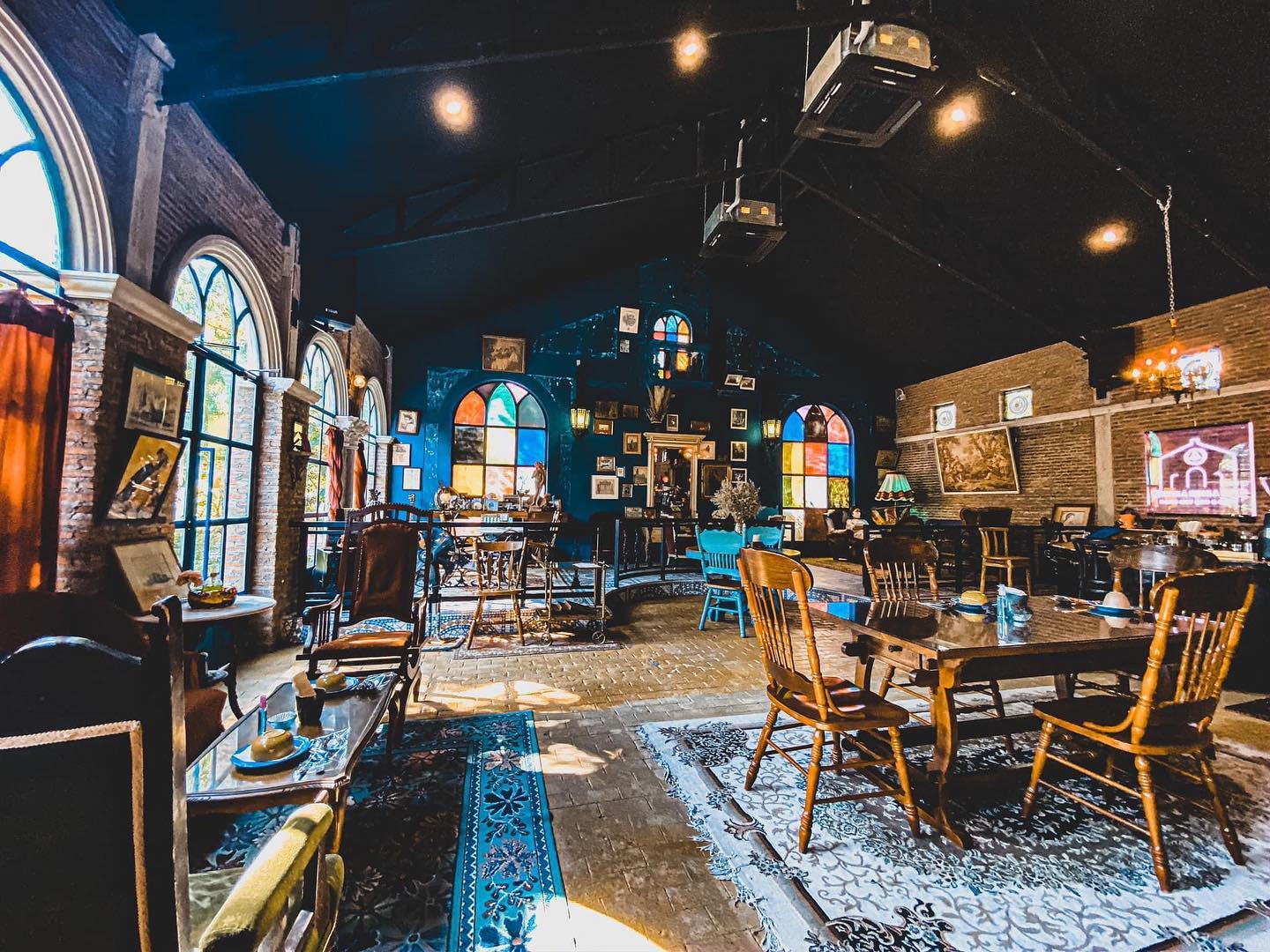 Image credit: @shing_a_ring_a_ring
But the cafe's main draw is definitely its outdoor dining area. Once the festive season approaches, the large tree in the middle of the patio will be dotted with presents in different sizes and colours around the branches.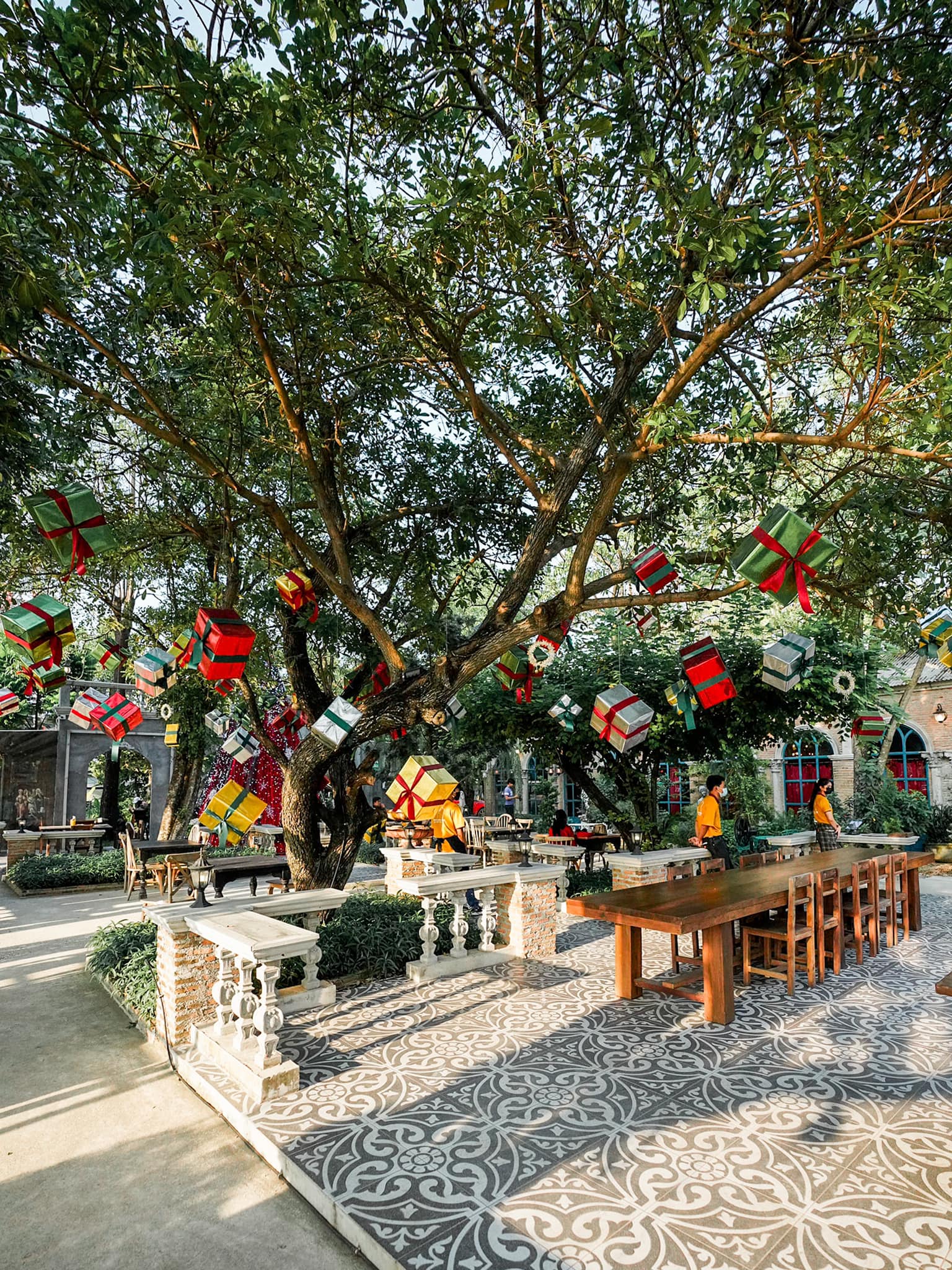 Image credit: Cafe Story : รีวิวคาเฟ่ ทุกวัน
At nightfall, you can leave your table and stroll around till you locate a small wooden cabin. We adore their attention to detail, with the hanging fairy lights and snowflakes above, as well as a little toy shack for the young ones to playact as little elves. Must-try dishes that top our list are the Shing Salmon Ring ฿200 (~USD5.98), and their seasonal menu but more on that here.
Address: 1023, 1 Bang Waek Rd, Bang Phai, Bang Khae, Bangkok 10160
Opening hours: 11AM – 12AM, Daily
Telephone: +66 9 5665 6994
Shing A Ring A Ring's Facebook | Google Maps
---
13. Davin Cafe – resembles the Money Heist bank
---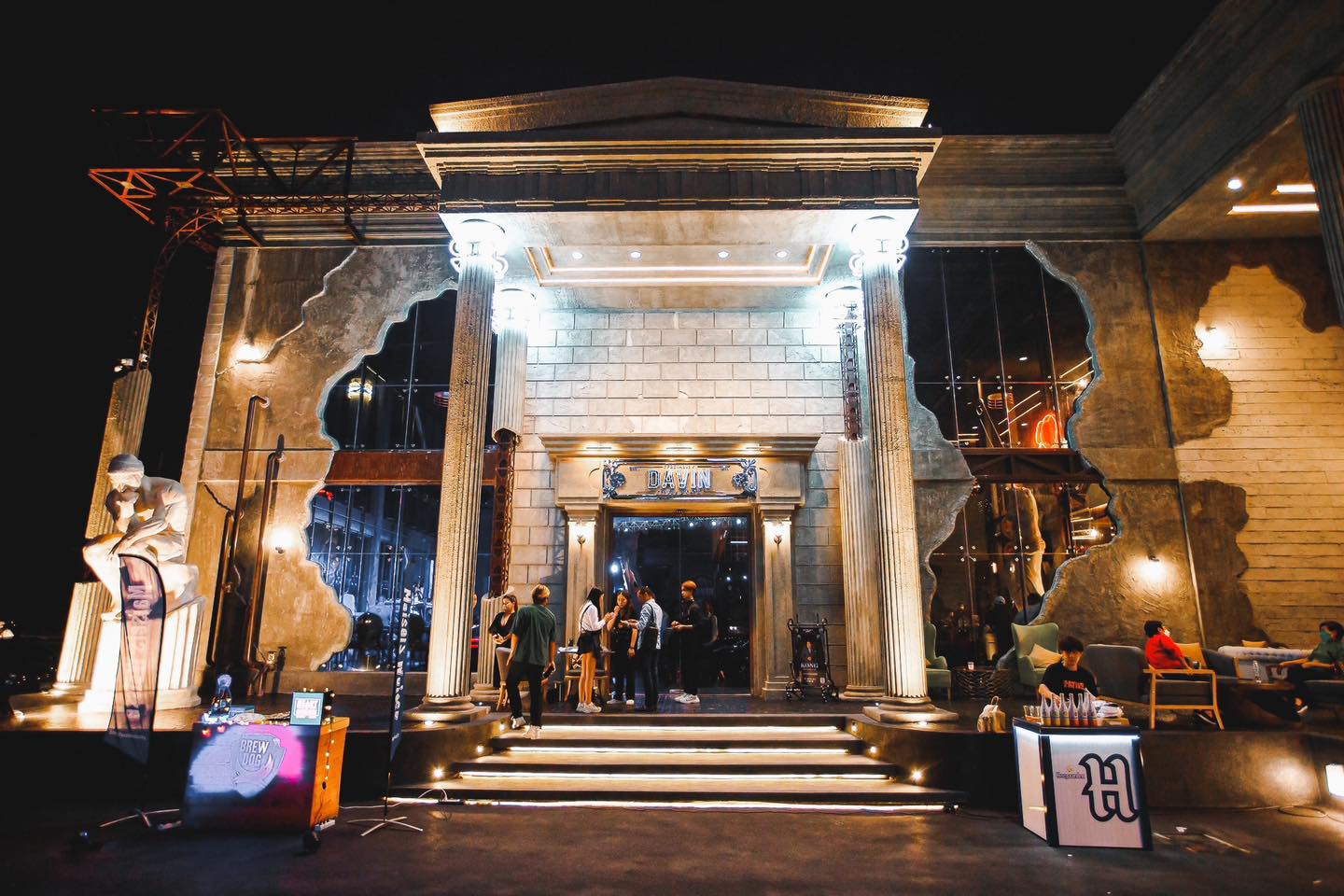 Image credit: Davin Cafe via Facebook
Any fans of the TV show Money Heist here? Cause we're sure this Davin Cafe will be a definite go-to. With its huge exterior made from Roman-inspired architecture, it's hard to tell that this place is actually a cafe. You'll be impressed by how photogenic this cafe looks.
It's impossible not to spend some time snapping tons of pics of the cafe after seeing its incredible design.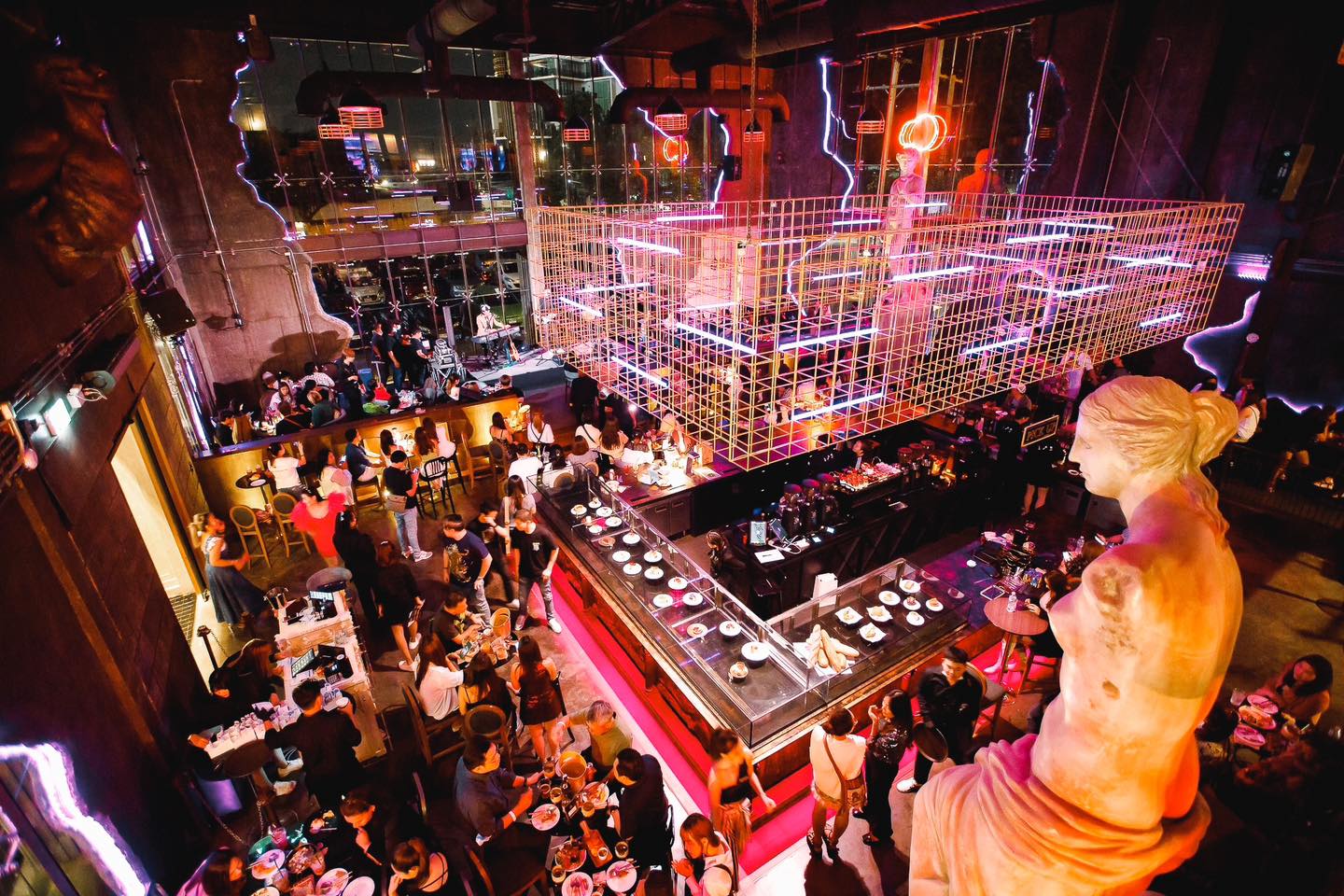 Image credit: Davin Cafe via Facebook
If you find the cafe exterior pleasing, the interior design is even more amazing with a bar counter sitting in the middle of the cafe, surrounded by glass windows. Exploring around, you'll spot big Roman statues along with industrial-themed walls that bring personality to this place. As the evening descends, the cafe turns into a vibrant bar with vivid neon lights illuminating the atmosphere.
One of the greatest dishes to try here is Spicy Stir Fried Spaghetti Seafood at ฿289 (~USD5.98). This dish features big pieces of succulent shrimp, tender squid, and plump mussels, all tantalizingly spiced to cater to your palate's desires.
Address: 108 Khlong Lam Chiak Rd, Khwaeng Nawamin, Khet Bueng Kum, Bangkok 10230
Opening hours: 7am-10pm, Daily
Contact: +66 9 8795 6659 | Davin Cafe's Facebook | Google Maps
---
14. Prakai Cafe & Cuisine – relaxing canal-side glamping cafe
---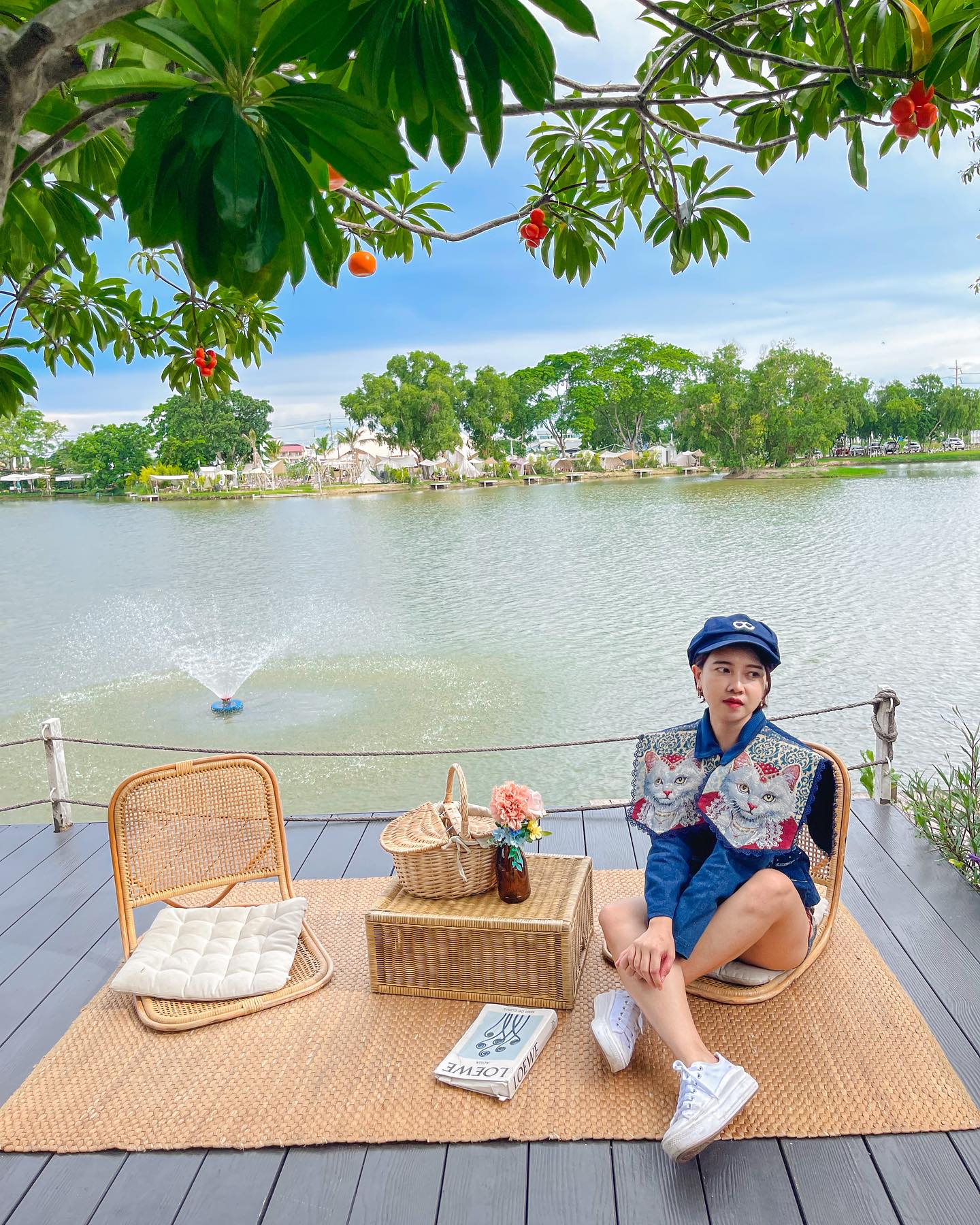 Image credit: @eye_shadoww via Instagram
Under Thailand's intense heat, finding respite in a lush green spot is something we seek out for. Prakai Cafe & Cuisine, situated alongside a canal surrounded by verdant Bangkok scenery, offers just that.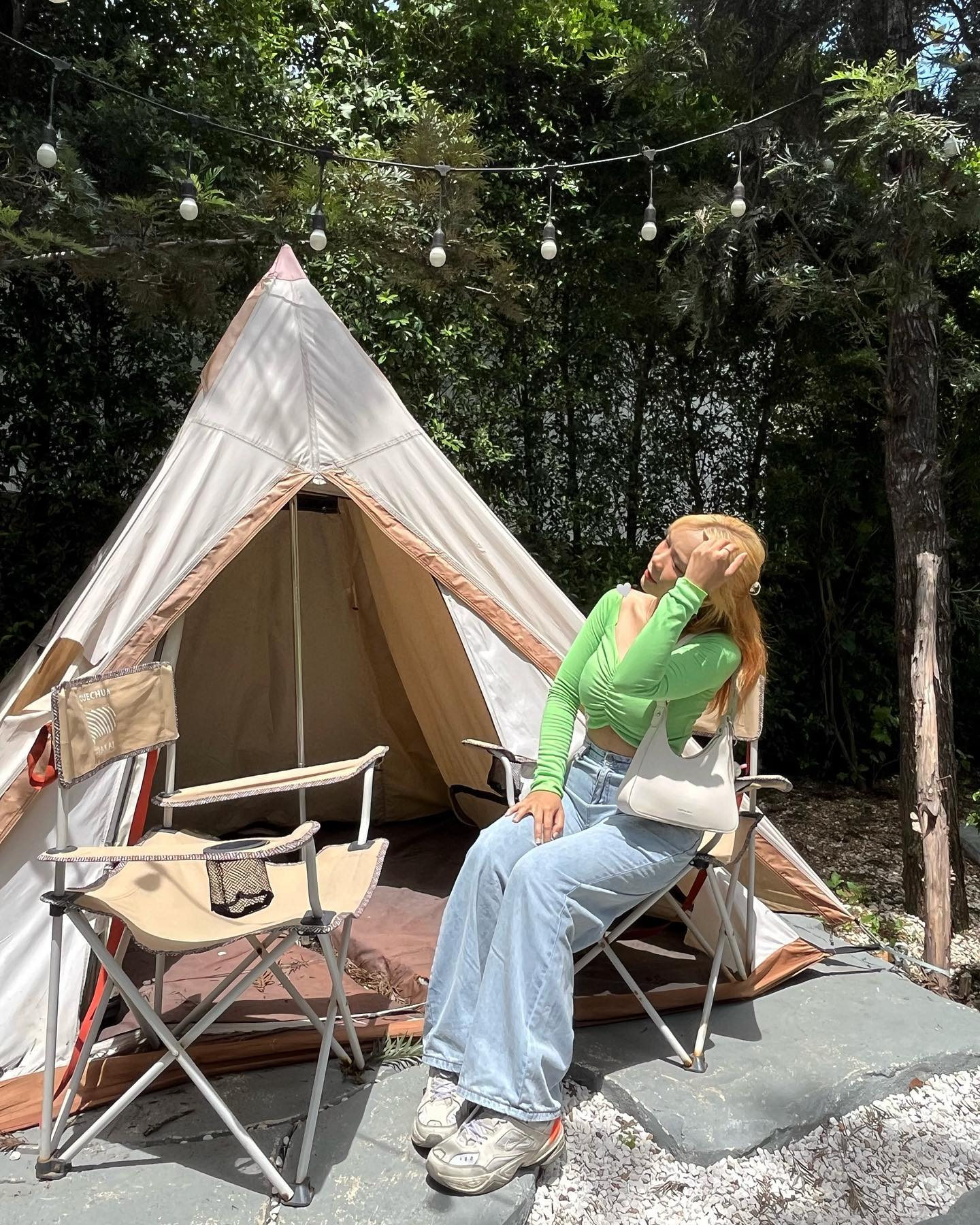 Image credit: @b.anunpuri via Instagram
Plus, the cafe offers glamping tents where you can opt to chillax and enjoy taking pics with friends.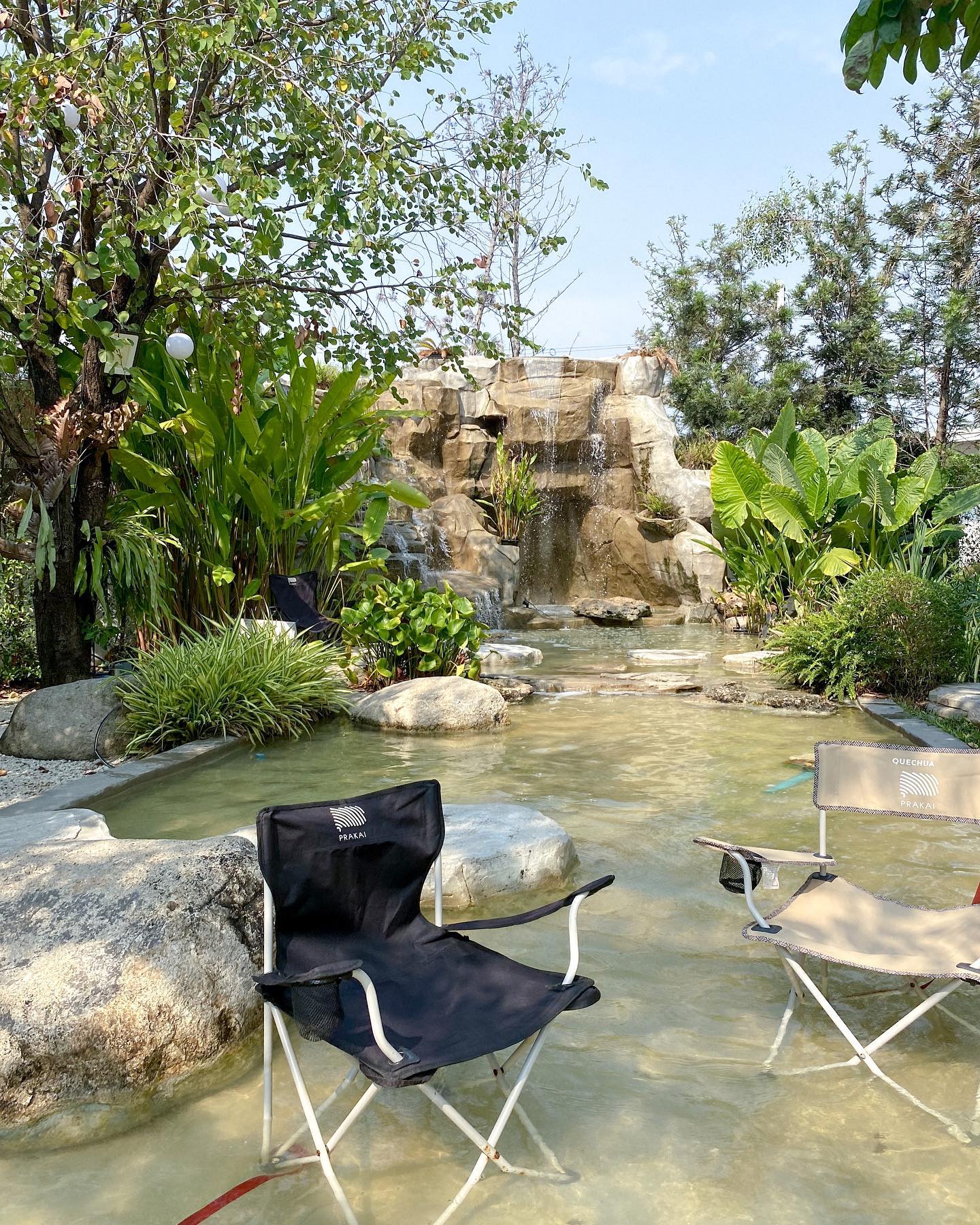 Image credit: @maizily_ via Instagram
Or, you can hang out by this mini waterfall with Spicy Glass Noodle Salad for ฿109 (~USD3.12). Top it off with a refreshment such as a cup of Iced Matcha Expresso at ฿85 (~USD2.43).
Address: Jao Jom 105/4, Rom Klao Rd, Saen Saep, Min Buri, Bangkok 10510
Opening hours: 10am-10pm, Daily
Contact: +66 6 5258 9898 | Davin Cafe's Facebook | Google Maps
---
15. Woodbrook – a classic cafe with rooftop seating overlooking the Chao Phraya River
---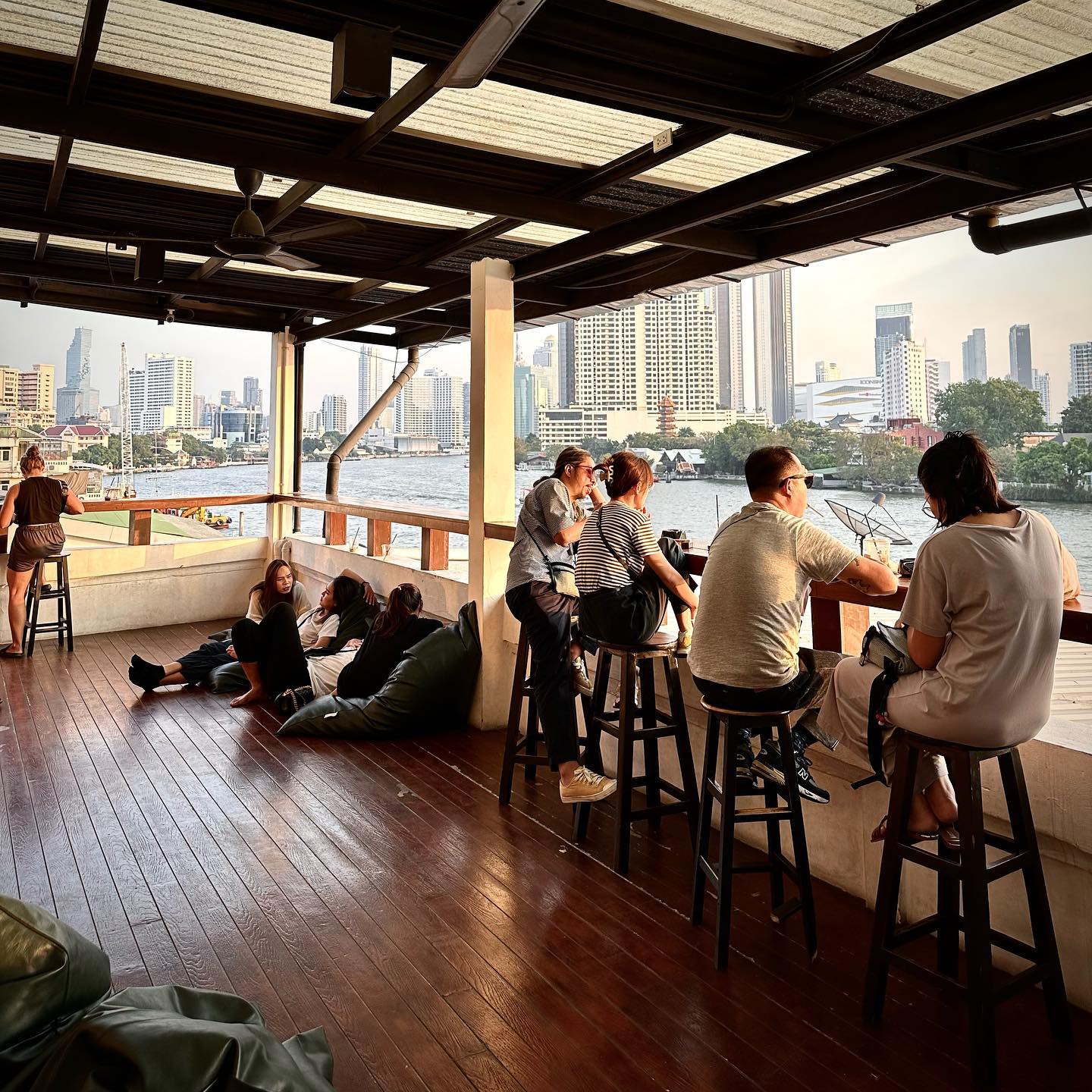 Image credit: @woodbrookbkk via Instagram 
Imagine enjoying a slow-paced life on a cafe rooftop and gazing at Bangkok's skyline and the largest river in the city – the Chao Phraya River.
Woodbrook is gonna be your new favourite hangout as it offers a classic rooftop dining area that boasts a commanding view of the Chao Phraya River and the surrounding high-rises.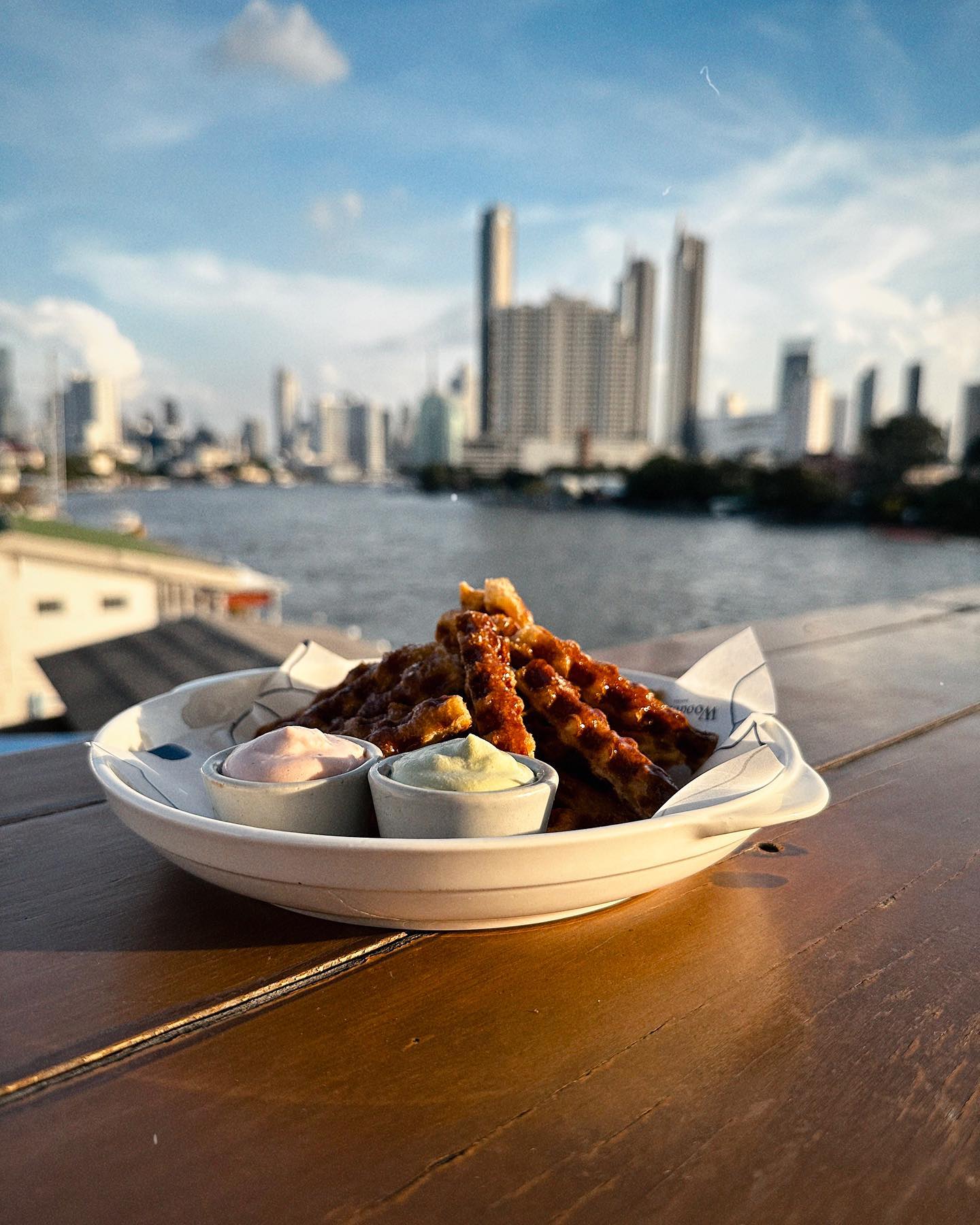 Image credit: @woodbrookbkk via Instagram 
To better your mood in line with the view, go ahead and try their Caramelised Croffle Sticks at ฿280 (~USD8.01), served with two dipping sauces.
FYI, this place serves as not only a cafe but also a hostel for backpackers to stay.
Address: 1222/1 Songwat Rd. Chakkaphat, Samphanthawong, Bangkok, Thailand, Bangkok
Opening hours: 10am-7pm, Daily
Contact: +66 6 4424 2929 | Woodbrook's Facebook | Google Maps
---
Themed Bangkok cafes to visit on weekends 
---
If you've been feeling unsettled by the stress of the daily grind, changing the pace with an iced latte at any of these themed Bangkok cafes will definitely help you loosen up and recharge on your weekends.
We hope that our list has given you more options for outings with them, from munching a burger back in the 1950s to dining on a 747 plane, or even having a taste of how glamping feels before that road trip to Chiang Mai.
Also, if you want to enjoy more articles, try Niji Cafe that is a Japanese-style cat cafe in Chiang Mai, Blue Whale Cafe in BKK that has a chill loft space to work at, and This retro-style teahouse in Nonthaburi that serves fusion drinks.
---
Cover images adapted from (Clockwise from Top Left): Cafe Story : รีวิวคาเฟ่ ทุกวัน, @nisaisnisasmile, TheSmartLocal, bkkmenu 
Article originally published on May 23, 2022. Last updated on 10 August 2023.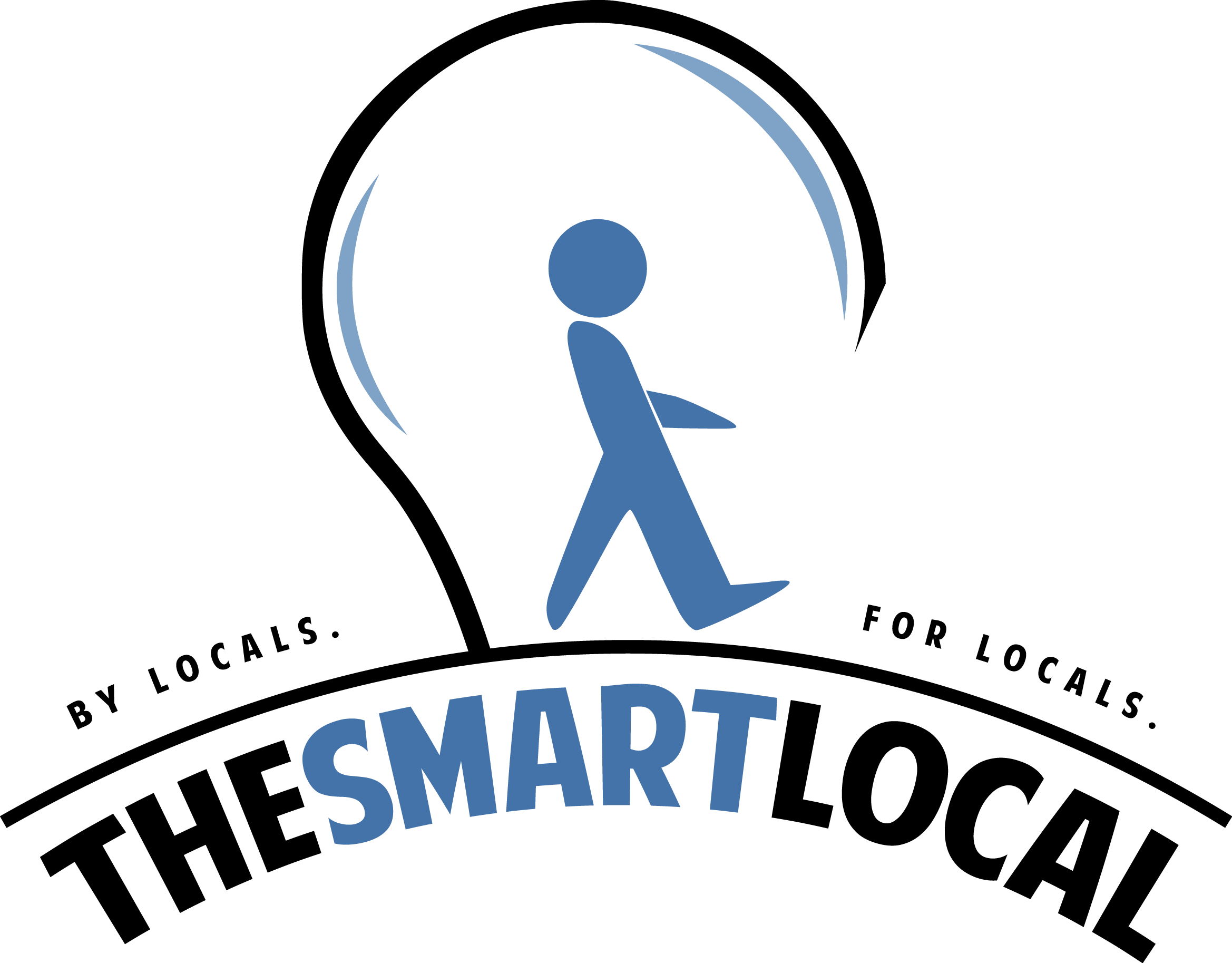 Drop us your email so you won't miss the latest news.