Image credit: Rurubu
Thai BL shows on Netflix & YouTube
---
Thailand is famous for many things, and Boy's Love, or BL, shows are one of them. No matter if it's the hot bods, the great chemistry between the characters or the happy endings that most stories offer, Thai BL shows are becoming a widely watched genre, even among international viewers.
If you're not quite convinced yet, try out these 9 Thai BL shows on Netflix & YouTube that you can watch as a first timer so you can get swept up in their compelling boy romance stories.
---
1. 2gether: The Series — Pror Rao Koo Gun
---
Adapted from a fanfiction by the writer, JittiRain, on Dek-D – a Thai webboard popular among high school students – Pror Rao Koo Gun, or 2gether: The Series, is known as the "gateway" to BL dramas. 
The series follows two college boys – both with pretty faces. Tine is a trendy student on the hunt for his soulmate, while Sarawat, a popular guitarist, prefers to keep to himself.   

From the description itself, viewers know they're in for major "opposites attract" tropes.
Image credit: TV Maga
Tine is being incessantly pursued by Green. To try to rebuff his admirer and convince Green that he is unavailable, Tine persuades Sarawat to become his fake boyfriend. Sarawat eventually agrees after several encounters with Tine.
In between the witty banter, honest conversations, and "fake" displays of affection, audience members are taken on a journey towards love with these two characters.

Image credit: Rurubu
2gether: The Series is a tale about an unexpected romance between two people who couldn't be more different from each other. The wholesome romance will surely melt your heart right through your core. Also, those who are nostalgic for their carefree college days should definitely add this show to their list.  
Watch this 2gether on YouTube.
---
2. Love by Chance — Bang Ern Rak
---
Bang Ern Rak – Love By Chance in English – is another fanfic-based show that focuses on an accidental love story. TBH, we think it might just be the best kind of romantic plotline.
Compared to 2gether: The Series, which offers a more lighthearted and wholesome vibe, Bang Ern Rak's storyline has a bit more twists and turns.
Pete, a university student from a wealthy family, has trouble trusting other people. It's because of his rich background that he's often taken advantage of by significant others, making it hard for Pete to believe in the authenticity of love. But that all changes one day, purely "by chance".
We find ourselves in a meet-cute right at the beginning of the show where Ae, a student from the engineering faculty, bumps into Pete with a bike.

Screenshot: Daily Motion
The two then continue to meet "coincidentally".
After learning that Pete is being blackmailed by his ex, Ae jumps into help like a prince on a white horse – the two build a deep bond throughout the many obstacles they face.
However, whatever confidence and rapport they've developed from overcoming hurdles hasn't helped them to be bold enough to share the feelings they have for each other. Just initially, of course.

Screenshot: Daily Motion
If you want to know how their love unfolds, give Love By Chance a shot. It's def a recommendation for those who find beauty in a love that starts out with a friendship. 
Bang Ern Rak now has two seasons. For K-Drama fans, we heard that its sequel is even reminiscent of the popular show, Boys Over Flowers, which portrays a classic match between a rich boy and a sweet, innocent character.
Watch this Love by Chance on Netflix.
---
3. TharnType: The Series — Kliad Nak Ma Rak Gun Sa Dee Dee
---
Kliad Nak Ma Rak Gun Sa Dee Dee, also known as TharnType: The Series, is one wild ride. In the show, viewers get to see high-strung tension and sizzling chemistry so strong that it soon emotions eventually morph into affection between two college roommates.
Our main character Type has feelings of prejudice toward gay people: he immediately requests that Tharn – his roommate – move out after learning that he's gay. But, Tharn makes it clear to Type that his discrimination is not Tharn's problem.

Image credit: SIMKL
The two engage in a mini-war, throwing mucks at each other whenever they're together.

Image credit: Thairath
Eventually, like battle brothers, Tharn and Type begin to shift their relationship into something more romantic, and even erotic. "Sorry, children." *Uncle Roger's voice*
What's noteworthy about TharnType is that the show makes a point to raise awareness about the unnecessary hate towards LGBTQ+ people, and reinforces the fact that same-sex love is not wrong.
For those who love a good fight before the romance kicks in, TharnType: The Series is just the perfect show for you. Just be ready to have a pillow by your side to clutch onto for those spicy, butterfly moments.
Watch this TharnType on Netflix.
---
4. Together With Me — Okhak Ma Rak Kap Phom
---
If you've heard of Bad Romance: The Series, and wonder where the romance between the main characters, Knock and Korn, begins, you'll be glad to hear that Okhak Ma Rak Kap Phom – Together With Me in English – is the prequel for it.
While the journey of Korn and Knock takes centre stage, audiences are met with not only one couple but three, who are trying to navigate school, friendship and love. 

Screenshot: Line TV
It might be a surprise to Bad Romance fans that Knock and Korn weren't exactly gay in the beginning. They started off as childhood buddies who woke up one day to find themselves lying naked beside each other and decided to keep their relationship under wraps.

Image credit: Naewna
The two then go through a series of obstacles, involving heartbreaks, before they can finally admit their deep affection for each other and become "official".
Together With Me is highly recommended if you're someone who fancies a love miracle between two old friends and the complexity that comes with realizing your true identity.

Watch this Together With Me on YouTube.
---
5. Love Sick: The Series — Rak Wun Wai Roon Saeb
---
Talking about complexity, Rak Wun Wai Roon Saeb, or Love Sick: The Series, is just a show for those who love to dissect complicated relationships. We're not sure if it's the setting in an all-male school or the events that work like a maze in this tale of love that keeps us on the edge of our seats.
Phun, who's already in a relationship, tries to get out of a love match made by his father. He asked for his sister's help but received a hard "no".

Screenshot: 9 MCOT Official
Not giving up, Phun asks Noh for assistance. Seeing that Noh's sister Pang is into BL fiction, Phun sees Noh as his best bet as a pretend boyfriend.  
Noh reluctantly agrees after Phun promises to come up with the funds that Noh needs for his music club.
After successfully convincing Pang to help her brother, Phun continues to "date" his girlfriend and becomes close friends with Noh.

Screenshot: 9 MCOT Official
It then takes over two seasons for the two characters to finally find their way towards stable footing, which involves a lot of fighting and betrayals among several characters in the series. Perfect for those who are into slow-burn love stories. 
If you're into the dynamics of school love stories, then check out Love Series to see what kind of obstacles the two characters have to go through, as well as how they ultimately come out to their friends.
Watch this Love Sick on YouTube.
---
6. SOTUS: The Series — Phi Wak Tuarai Kap Nai Pi Nueng
---
Despite many infamous university hazing stories, it seems that love can sometimes grow out of such a heated environment, as can be seen here in Phi Wak Tuarai Kap Nai Pi Nueng, or SOTUS: The Series.
Freshman Kongpob is unhappy with the hazing activities provided by his seniors. Little did he know that he would soon fall in love with the head hazer, Arthit.

Image credit: Olsen
Before that could happen, the two initially fight a lot during the freshman welcoming events. One of the incidents involves Kongpob standing face to face with Arthit to illustrate just how much he disagrees with a hazing task.
The tension soon leads to a clash between the seniors and the juniors.

Image credit: Teen Diary
Things, however, change after Kongpob discovers that Arthit lives across from his building. The little things that Kongpob sees Arthit do help him to see his senior in a new light.  Through many encounters, unresolved conflict slowly dissolves and ultimately transforms into affection.
SOTUS is a show for those who have an itch for a senior-junior romance. Plus, binge-watching the series will be like a throwback to days when you were crushing on your run pee that everyone warned you to stay away from.
Watch this SOTUS on YouTube.
---
7. The Miracle of Teddy Bear — Kun Mee Patihan
---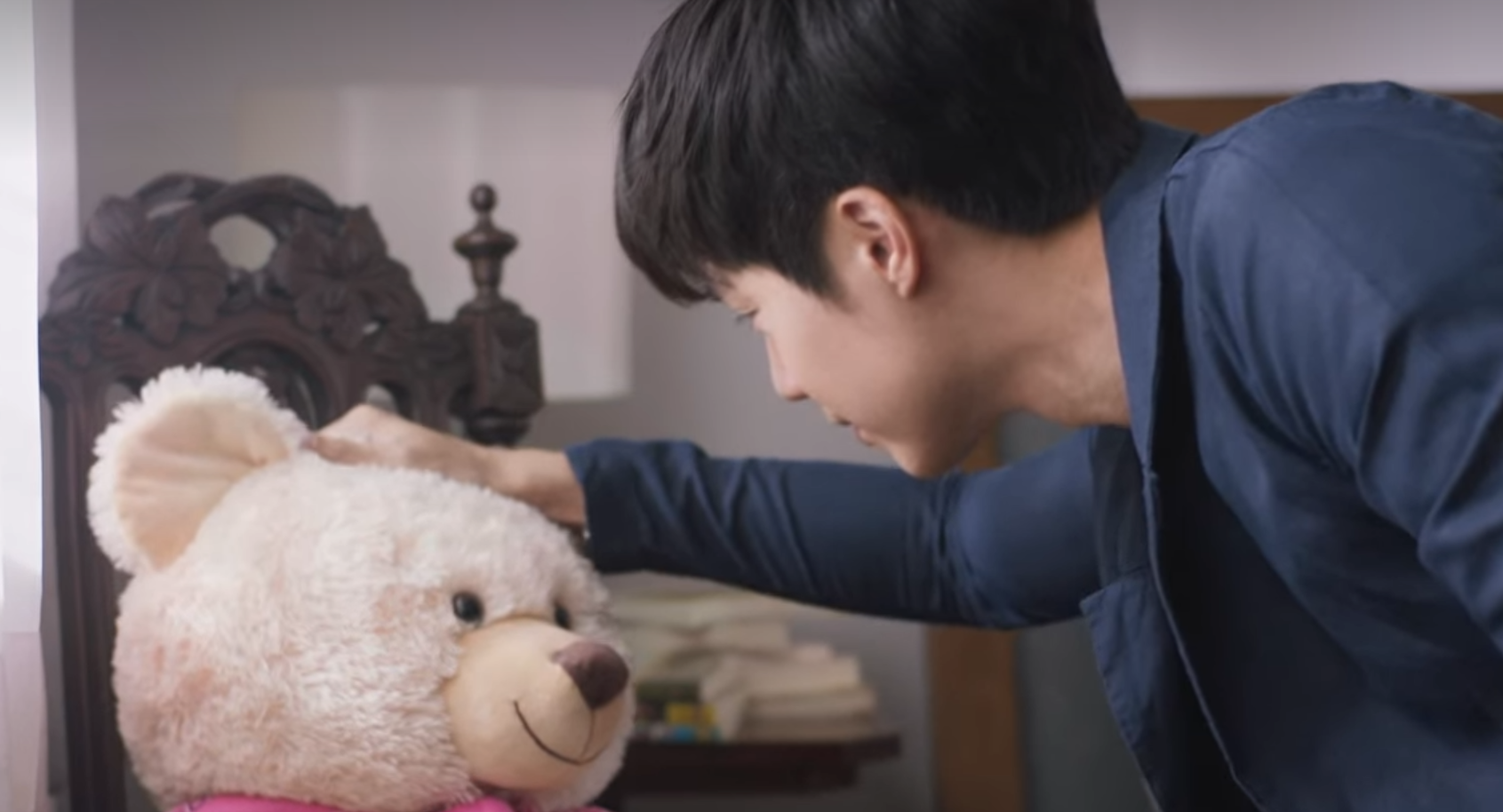 Screenshot: Netflix
Unlike other normal romance shows, The Miracle of Teddy Bear, aka Kun Mee Patihan, infuses fantasy in its storyline. The show is about a scriptwriter, Pheeranat, whose favourite teddy bear, Taohu, magically transforms into a handsome young man. Taohu faces challenges, like staying at his owner Pheeranat's house, where he's mistaken for an intruder.
With his troubled past, Pheeranat has an angry character and tries to expel Taohu from his house. Eventually, he changes his mind and allows Taohu to stay. Plus, animated household items in Pheeranat's home can communicate and work together to improve their relationship.
As time passes, Taohu starts having feelings for Nut, but he realizes that he needs to act quickly because his time as a human is running short.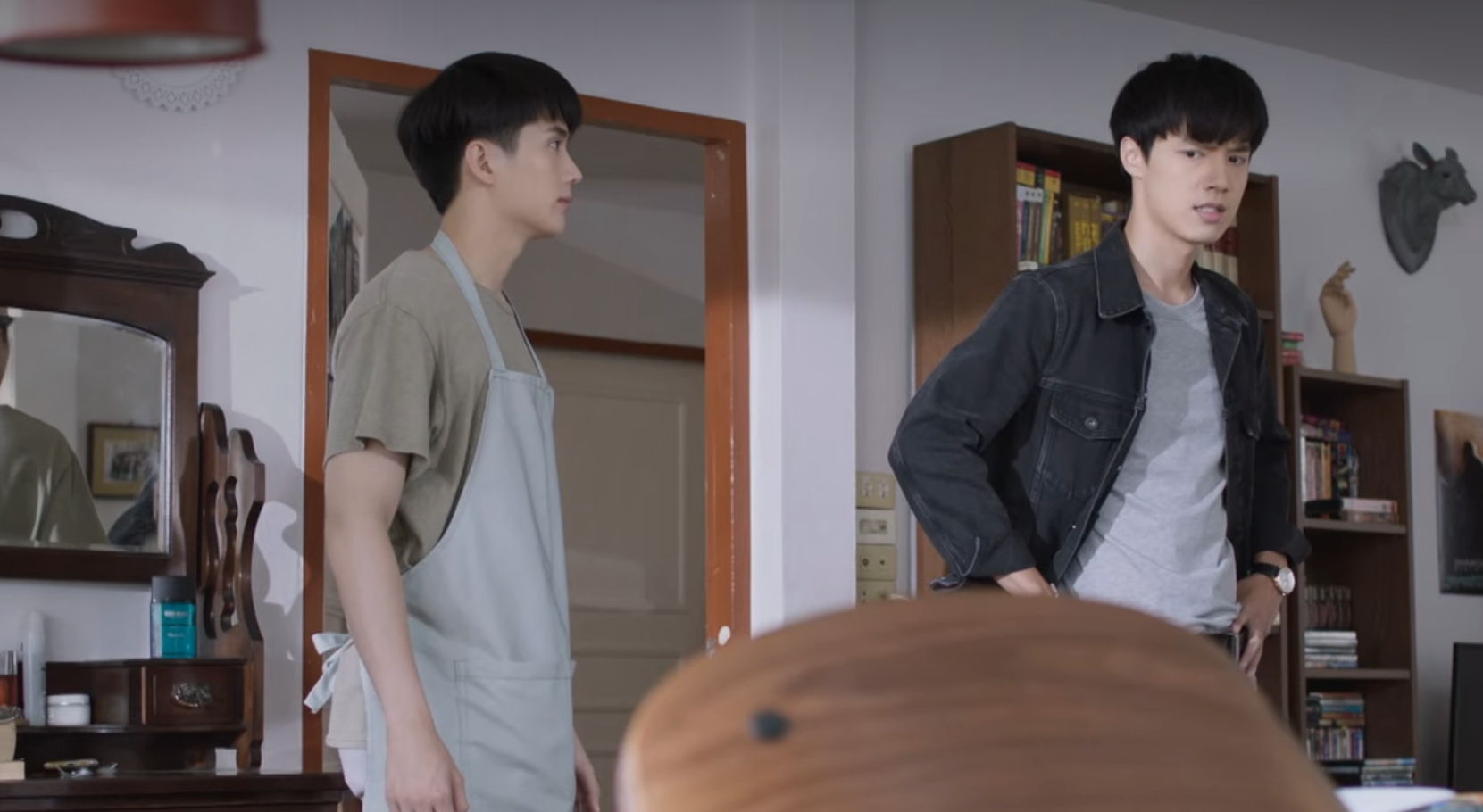 Screenshot: Netflix
Also, the show does a good job dealing with homophobia in Thai society without falling into the cliché of straight guys making exceptions. Pheeranat owns his sexuality without apologies, and Sarin Ronnakiat's portrayal of an innocent character, Taohu, learning about life adds charm to the goofy role.
If you want to know how the relationship between them will unfold and are ready to be hooked by Taohu's innocent, lovable character, go ahead and watch it on Netflix.
---
8. Dark Blue Kiss — Joop Soot Tai Per Nai Kon Diew
---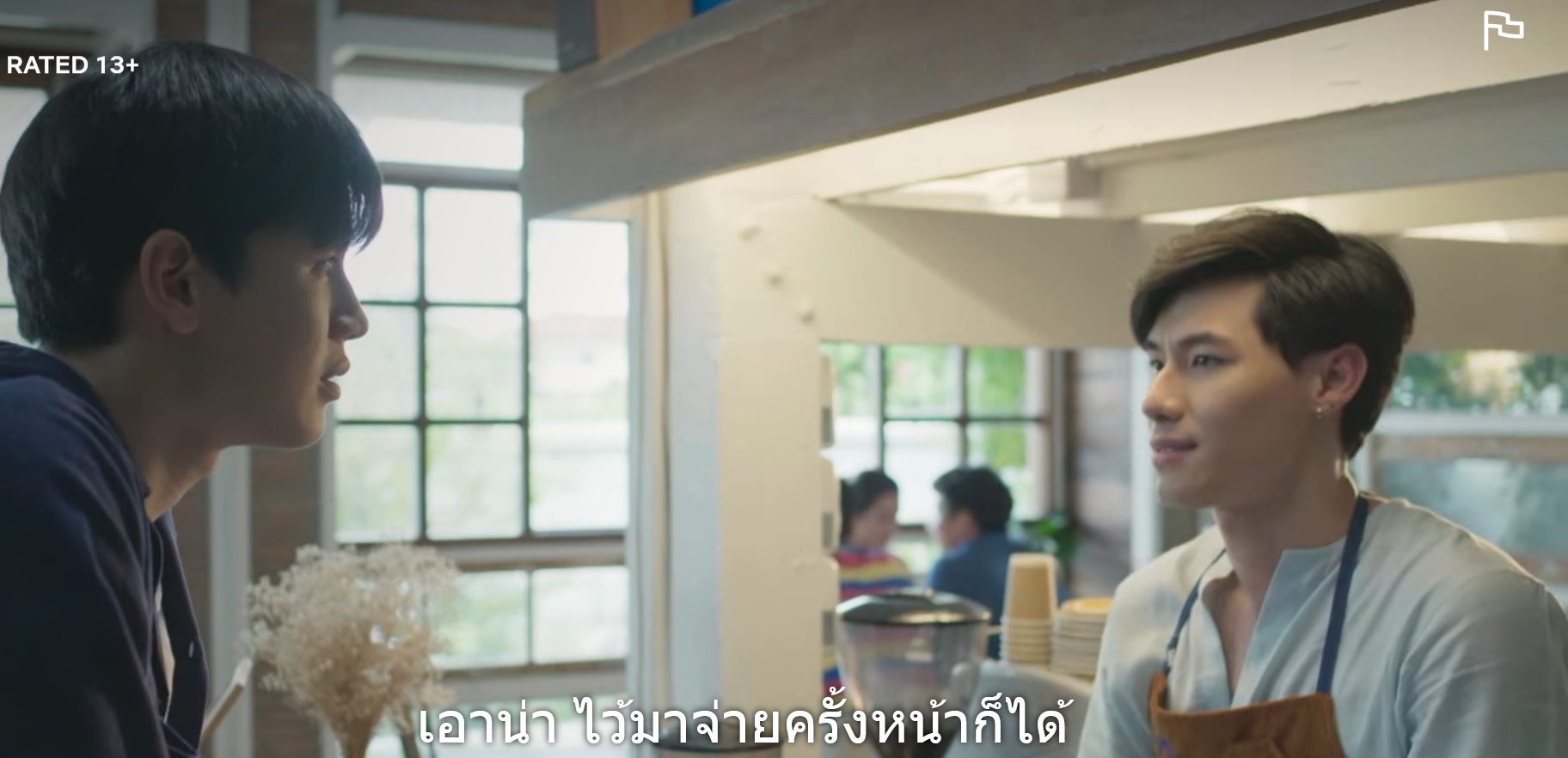 Screenshot: Netflix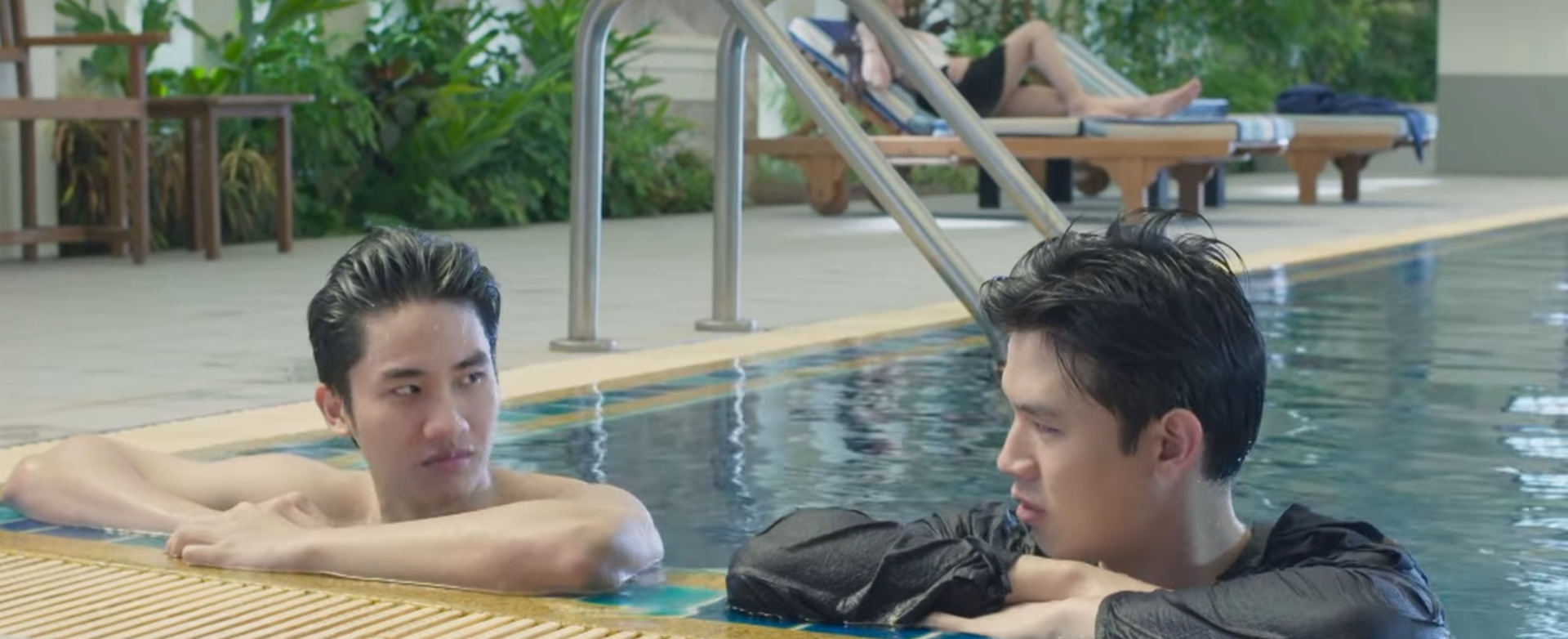 Screenshot: Netflix
For drama fans, we guarantee this Thai BL show will never fail you with its emotional storyline.
With no weekend plan, take the opportunity to binge-watch Dark Blue Kiss on Netflix.
---
9. I Told Sunset About You — Plae Rak Chan Duai Chai Thoe
---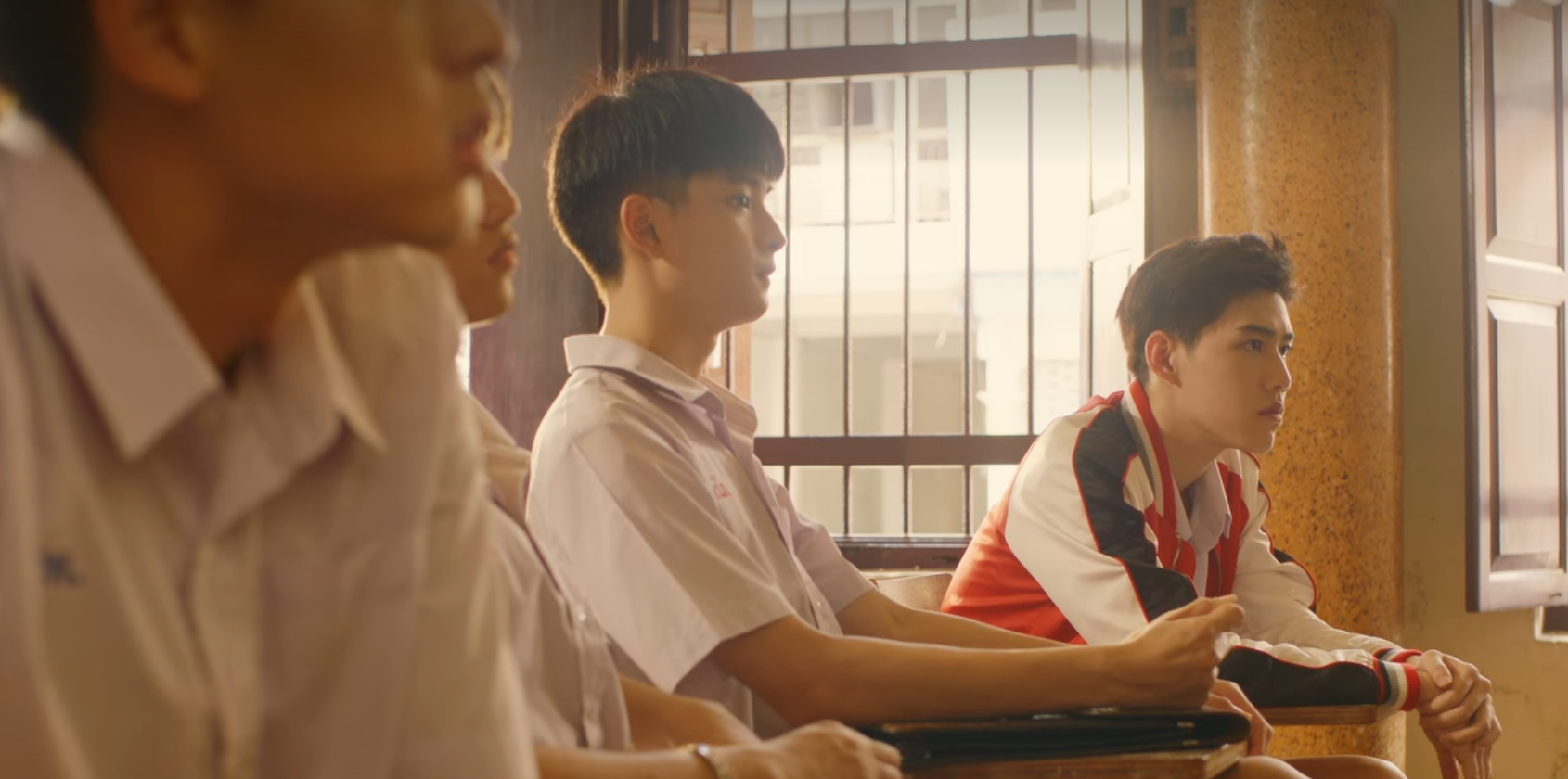 Screenshot: Netflix
Known as an unmissable BL series, I Told Sunset About You originally brought up the hype surrounding Billkin and PP Krit as an imaginary couple.
The series comprises two parts. I Told Sunset About You is the first part which tells the story of Teh and Oh-aew, two guys in Phuket who used to be best pals as kids but had a falling out and went silent for years. Now, in their last year of school, they unexpectedly meet at a Chinese-language class while prepping for university admissions. At first, they're rivals, but they patch things up, and their bond deepens, blurring the lines between friendship and something more, which also creates some complications as Teh grapples with his emotions.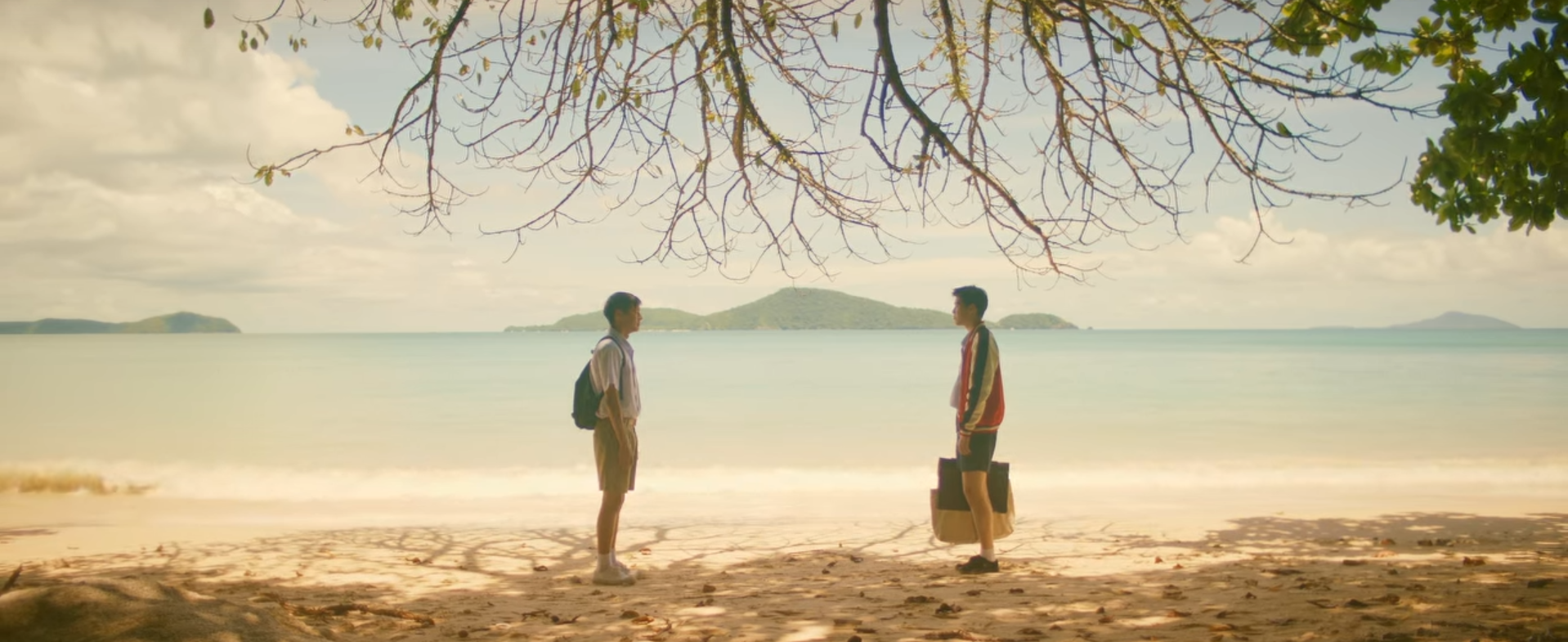 Screenshot: Netflix
While, the second part, I Promised You The Moon portrays Teh and Oh-aew's unstable relationship. After being happily together for a year, Teh and Oh-aew leave Phuket for Bangkok to start their university journey. They seem to be happy together as they're adjusting to their new life in Bangkok. Nonetheless, things start to change after both of them spend more time with their new group of friends. Teh's feelings towards Oh-aew have not been the same, and he starts to have affectionate feelings for Jai who is his new friend at the university.
It doesn't take Oh-aew long to realise the change in his partner. But what will Oh-aew do to mend things? Catch the unfolding story on Netflix.
---
Bonus: Sweet Boy — Rao Ruk Nai
---
Here's a "bonus" for those who really want to get into Thai BL content. Sweet Boy, an LGBTQ+ coming-of-age film, is def worth the watch for those who are too impatient to follow an entire series.
The story follows a high school senior, Nack, and is yet again set in an all-boys school. As an only child to a single mother, Nack works harder than other students at his school, as he has the extra pressure to ensure he can provide for his mother in the future.

Screenshot: Netflix
Nack is just an ordinary boy who lives an ordinary life until he stumbled upon two boys doing the deed in the bathroom of the school's swimming pool. It is at that moment that he discovered his sexual identity which is oriented toward boys.

Image credit: GagaOOLala
Nack then goes through several obstacles including the stress of getting into university and the complications – and excitement – that come with figuring out his sexual identity in the form of Toy – a classmate who he later falls in love with.
If you're into the Simon vs. the Homo Sapiens kind of vibe, Sweet Boy might just be the coming-of-age movie for you to remind yourself of one of the most confusing, yet bittersweet times in your life which is adolescence.
---
Thai BL shows for newbies of Thai BL
---
From school to university settings, simple conversations where bonds are created to one pretty face pressed up against another pretty face, this list of BL has it all and will def get your knees wobbling. Even for a first timer like me.
What we can also grasp from all these BL series is that "love is love", and it reminds us of a beautiful thing we humans are capable of eliciting.
Do we have any fans of BL here? If so, share with us your favourite show in the comments below.
Other Netflix shows worth the watch, check out 10 films on Netflix to educate yourself about racial equality, 9 choose-your-own-adventure games on YouTube & Netflix, and 8 Thai movies on Netflix to enjoy over the weekends.
---
Cover images adapted from: Preview.ph, Netflix, YouTube, and Kapook
Article originally published by Nune Praewalin in June 2021, last updated by Bank Fasaisirinan on November 2023.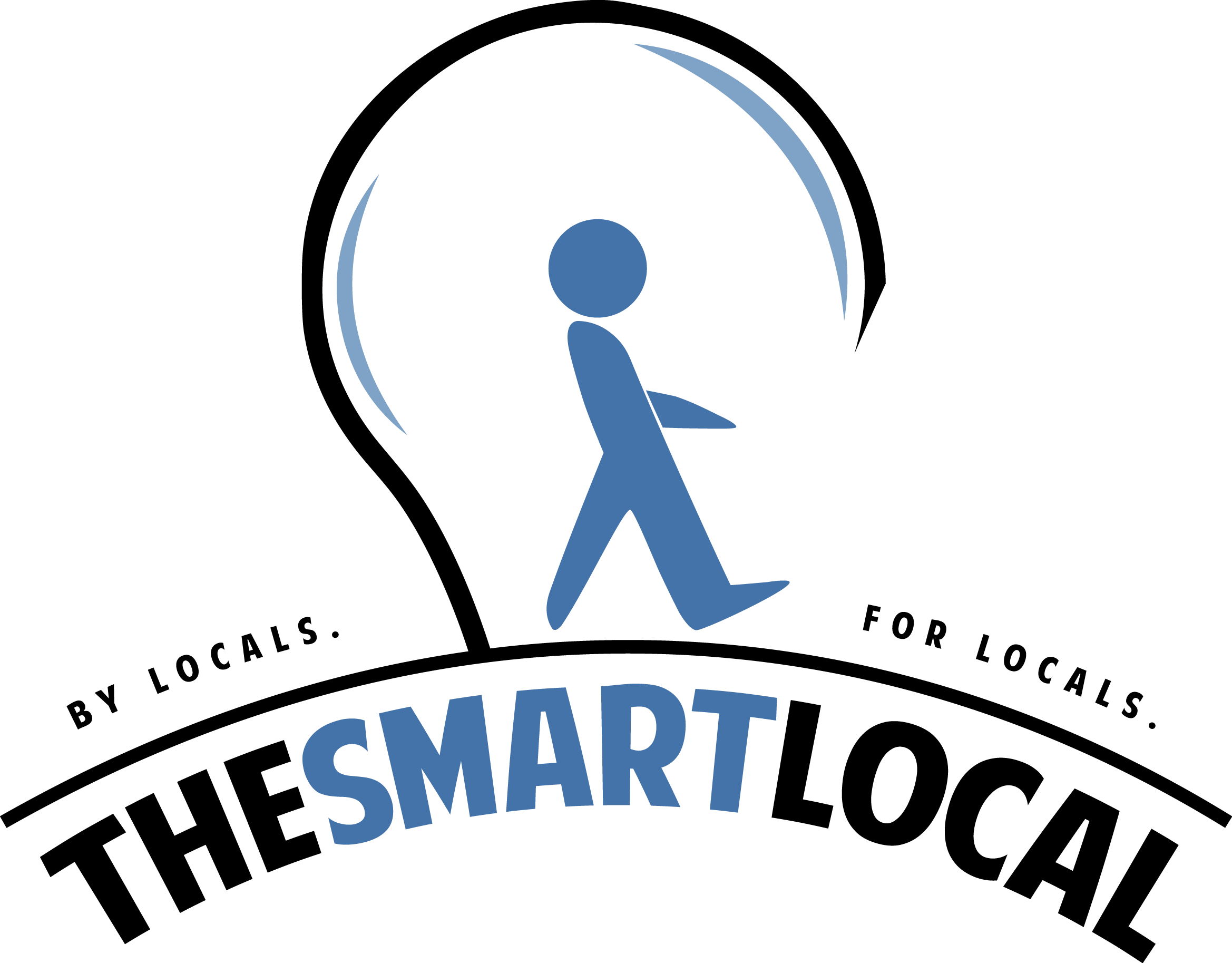 Drop us your email so you won't miss the latest news.